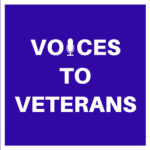 Welcome to Episode 3 of the Voices to Veterans podcast. This month features the story of Sergeant First Class Herbert Burnett, U.S. Army (Retired).
Herbert is a career soldier who deployed to Saudi Arabia in 1992 and the Iraq War in 2004. His story is a fascinating study in leadership. He has a simple formula. If you show genuine concern for your people, they will succeed. He's proven it true not only in the military, but also in his work with young people in his community, which is now his calling. When you hear Herbert's story, you can't help but be inspired by his life of service.
If you'd prefer to read Herbert's story, or want to see additional photographs documenting his service, check out the written version of this podcast.
We hope you enjoy Herbert's story, and don't forget to subscribe to the Voices to Veterans podcast for an inspiring veteran's story each and every month.