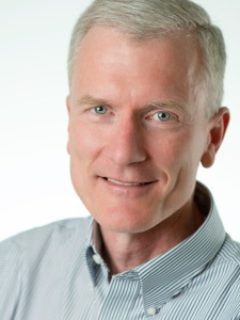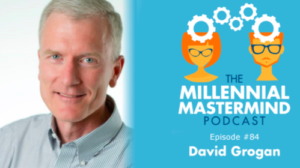 Dave Grogan was born on an Air Force base in Rome, New York. His dad was a fighter pilot and his mom a Cleveland girl longing to return home to family and friends, so when his dad's hitch was up, the family moved to Olmsted Falls, Ohio, where Dave grew up.
Olmsted Falls was typical Small Town USA: a Village Green, Rocky River and a waterfall coursing through the middle of "downtown" under a turn of the century steel girder bridge, a soft ice cream shop within walking distance of the outdoor basketball court where Dave and other teens played hoop during the summer, and a great school system where everyone knew everyone else's kids. It was so bucolic that most people wanted to stay in the area after high school. But Dave had other plans – he needed to go to a college where no one else from his high school had ever gone.
So at 18 years old, Dave headed east to the College of William & Mary, where he met his future wife, Sharon. They started dating with only three months to go of their senior year. After graduating from William & Mary, both began their careers in Houston, Texas, and they were married two years later. But after three years of reviewing real estate deals as a Certified Public Accountant, Dave decided he would be better at putting the deals together than auditing them, so he and Sharon headed back east to Charlottesville, Virginia, where Dave attended law school at the University of Virginia (UVA).
Dave went to a party at UVA that changed his life. There was a young Naval Officer at the party, "Whit", who was going to law school on a Navy scholarship. After hearing about Whit's exploits onboard the aircraft carrier USS AMERICA, Dave decided the Navy was for him and broke the news to Sharon. Once she revived and agreed to what they both thought might be a temporary deviation from Dave's inevitable entry into the corporate world, Dave re-charted his classes and his future for a tour of duty as a Navy Judge Advocate, or "JAG", a calling later made famous by Tom Cruise in a "A Few Good Men."
That decision started a 26-year Navy odyssey that allowed Dave to do things most people only dream about. During his Navy career, Dave lived in Japan, Cuba and Bahrain; helped in the fight against pirates and international terrorism; traveled to capitals around the world and met with royalty; deployed to the Mediterranean Sea and the Persian Gulf aboard a nuclear powered aircraft carrier and launched in planes from the ship underway; and prosecuted and defended court-martial cases. Dave's experiences abroad and during the course of his career influence every aspect of his writing.
Dave's previous publications include professional articles published in the Virginia Law Review, the Virginia Journal of International Law, the Naval Law Review, and the U.S. Naval Institute's Proceedings magazine.
Dave's current home is in Savoy, Illinois, where he lives with his college sweetheart, Sharon. They have three children and a dog named Marley.