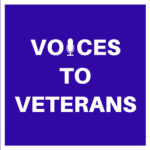 Welcome to Episode 4 of the Voices to Veterans podcast. This month features the incredibly inspiring story of Staff Sergeant Vanessa Lawicki Vaché, U.S. Air Force.
Vanessa's story is one you will want to share with your kids. When others told her she wasn't good enough, she worked hard and proved them wrong. Her success put her in the right place at the right time – in Germany just after the Berlin Wall fell. Suddenly, the door to Eastern Europe opened for her and her fellow Air Force Band members, allowing them to play their part in ushering in a new era of freedom.
If you'd prefer to read Vanessa's story, or want to see additional photographs documenting her service, check out the written version of this podcast.
We hope you enjoy Vanessa's story, and don't forget to subscribe to the Voices to Veterans podcast for an inspiring veteran's story each and every month.