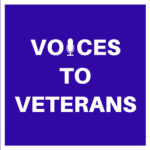 Welcome to Episode 2 of the Voices to Veterans podcast. This month features the story of a trailblazing woman in the U.S. Marine Corps, 1st Lieutenant Iris Nigg Lundin.
Iris was one of the first female officers in the Marine Corps in World War II and one of the first four women to earn her Aerial Navigator Wings. Iris's competence and success helped open doors in 1943 that women continue to walk through today. We lost Iris in May 2020 at the age of 101. This Voices to Veterans podcast is a tribute to her legacy.
If you'd prefer to read Iris's story, or want to see additional photographs documenting Iris's service, check out the written version of this podcast.
We hope you enjoy Iris's story, and don't forget to subscribe to the Voices to Veterans podcast for an inspiring veteran's story each and every month.