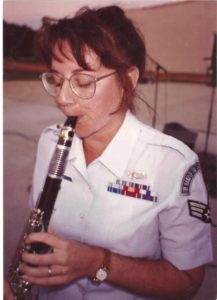 To understand Staff Sergeant Vanessa Lawicki Vaché, U.S. Air Force, you have to explore her roots. She grew up in Olmsted Falls, Ohio, a small town about 25 miles from downtown Cleveland. She played clarinet in her high school band and loved music. She wanted to go to Baldwin Wallace College, a local liberal arts college with a good music program, but her band director bluntly told her she wasn't good enough. Worse yet, her guidance counselors told her she wasn't smart enough to go to college. With her grades, they said, she would never get in.
What the band director, the guidance counselors, and even Vanessa didn't know, was that Vanessa had Dyslexia, which made high school incredibly difficult for her. But what Vanessa did know was that she loved music, so she set out to prove the naysayers wrong.
Vanessa practiced her clarinet incessantly, auditioned for Baldwin Wallace College, and was accepted for admission. She spent one year there after she graduated from high school in 1977, practicing a minimum of four hours a day in addition to her music classes and band performances. She also took lessons from a clarinet player in the Cleveland Orchestra, who gave her the confidence she needed to succeed. But all of this cost money, and Vanessa's family didn't have much. So, she worked at a pizza parlor whenever she could and earned just enough money to pay her way through school.
One year later, Vanessa auditioned for and was accepted into the prestigious Manhattan School of Music, and her life changed. Suddenly, she was no longer the girl in high school struggling to get by. Now, she was the young woman respected for her musical ability and for who she was. Needless to say, living in Manhattan was expensive, so Vanessa took cleaning and waitress jobs – anything that would pay the rent. Recognizing Vanessa's determination and talent, her teachers did everything they could to help her succeed. She did, graduating in four years with a bachelors degree in music.
While that alone would be an amazing story, Vanessa didn't stop there. She auditioned for and was accepted by the world-renowned Juilliard School, also in Manhattan. She studied and played clarinet at Juilliard for two years, graduating with a master's degree in music. No one told her she wasn't good enough now!
After Juilliard, Vanessa received an offer to play for the National Symphony of the Dominican Republic, so she moved to Santo Domingo in 1984. She was the Symphony's principal clarinetist and stayed two years until the living conditions eventually got to her. The lights in her apartment went out routinely, the running water was undependable, and she was constantly sick from bad water and bad vegetables. So, she returned to Cleveland to come up with her next move.
Wanting to play music and looking for a challenge, Vanessa auditioned for the U.S. Air Force music program. She was accepted and enlisted in the Air Force. In July 1987, she attended Basic Training at Lackland Air Force Base in San Antonio, just like any other Air Force recruit.
After six weeks of Basic Training, Vanessa graduated as an Airman (E-3). She then reported to the 541st Air Force Band at Pease Air Force Base in New Hampshire, where she played clarinet. She spent two and a half years there, but then volunteered to transfer to Europe in return for an informal guarantee that she would get to choose her return orders stateside.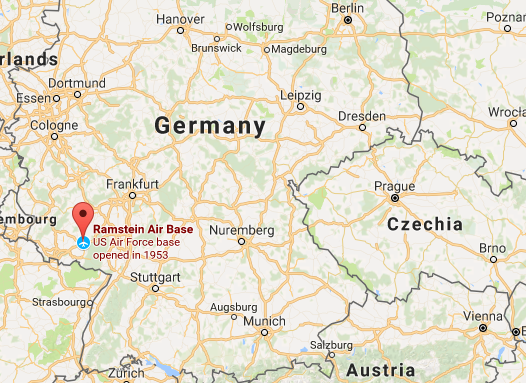 Vanessa's timing was flawless. She transferred to the 686th Air Force Band, known as the U.S. Air Force Band Europe, just outside of Ramstein Air Base in West Germany one week after the Berlin wall fell. As if overnight, the Iron Curtain lifted and the Air Force Band was in demand in all of the newly liberated countries in Eastern Europe.
Everyone in the band was excited to see Eastern Europe, but they didn't know what to expect. During Vanessa's first trip east, her bus passed empty watchtowers looming over the borders. As the band drove closer to the towns, the world faded into a black and white picture from the 1940s. The landscape was dark and dreary, and every structure was old and needed paint. There were bombed out buildings from WWII everywhere, still with broken windows, walls without roofs, and piles of concrete all around. The air hung heavy with pollution, and even the sky stayed gray.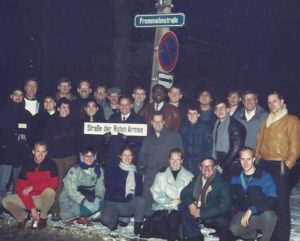 Vanessa played clarinet in the 60-piece Air Force Europe concert band. One of her first concerts was in Gorlitz, East Germany, near the border with Poland. The people were friendly, but very poor. They wanted to show hospitality to the band, but had no money or means to do so. They served the band soup, but there was barely anything in it. When some members of the band asked about Red Army Street, the town took down the sign and gave it to the band. Vanessa said this trip and others into the former Soviet Bloc revealed the realities of communism to her. Before it had been just another form of government she studied in school and heard about in the news. Now she saw firsthand how people living under communist rule had to struggle to get by.
Vanessa's most memorable concert was in the city of Pilsen in the Czech Republic. She and the rest of the musicians were loaded into buses outside of Ramstein and, contrary to their usual practice, drove through the night to get there. Vanessa managed to eke out a little sleep along the way, but woke up when her bus arrived in Pilsen.
When she looked outside, she couldn't believe her eyes. American flags were everywhere! They hung from balconies and out of windows, they flew from flagpoles and the roofs of buildings, and thousands of people waiving small American flags crowded the area waiting for the band.
When the band members got out of the buses, the people from Pilsen swarmed them. They gave the band members hugs and flowers, but most of all they thanked them over and over. As the band marched to its first performance, a woman ran up to Vanessa and asked Vanessa to be in a picture with the woman's baby. Vanessa gladly stopped and posed for the picture.
Vanessa learned later that Ambassador Shirley Temple Black arranged for the band to play for Pilsen's Liberation Day, commemorating when Patton's Third Army liberated the city from the Germans on May 6, 1945. The Russians liberated Prague (about 60 miles away) and the rest of Czechoslovakia, but after the Iron Curtain fell around the country, the Russians required the Czechs to teach that the Russians had liberated all of Czechoslovakia. The citizens of Pilsen never forgot, though, and made the truth part of their oral history.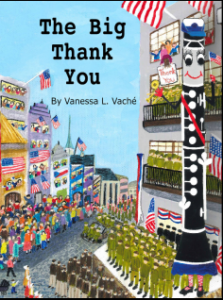 Vanessa and the Air Force Band were the first American service members to arrive in Pilsen since Patton's Army left, so the people of Pilsen wanted to show them just how grateful they were to the United States.
Vanessa and the Air Force Band performed at numerous ceremonies over the course of the next two days. She and the others knew they were standing in for the heroes who liberated Pilsen at the end of World War II, and were glad they could play their part in linking the Czech and American people together once again. Pilsen made such a profound impact on Vanessa that she wrote a children's book about it called The Big Thank You, which Vanessa illustrated herself.
Vanessa returned to the United States in 1992 and completed one more tour on active duty with the U.S. Air Force Reserve Band at Robbins Air Force Base in Georgia. The band traveled nonstop, and actually played concerts as far away as Turkey and Russia. The incessant travel eventually took its toll on her and after twelve years, Vanessa traded in her Air Force uniform for a more stable civilian life.
Vanessa lives with her husband and fellow jazz musician, Allan Vaché, in Florida, where she continues to play and teach music. She admits her Air Force experience came with costs, but she is proud to have served and feels it opened new doors for her. Her greatest takeaways, though, are the friendships she made with her fellow musicians and the many people she met and talked to before and after her performances across Europe. To Vanessa, the U.S. Air Force Band brought people together, one concert at a time.
If you enjoyed Vanessa's story, please sign up for the Voices to Veterans Spotlight monthly newsletter by clicking here. Once each month, you'll receive a new written veteran's story and a new podcast directly in your mailbox. Best of all, it's free and you can unsubscribe at any time.