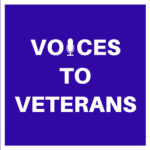 Welcome to Episode 5 of the Voices to Veterans podcast. This month features the story of Staff Sergeant Bernard Moritz and his unique assignment in the Panama Canal Zone conducting counter-espionage operations for the U.S. Army during World War II.
While Bernard's service in the Army is fascinating in and of itself, what is even more amazing are the hurdles Bernard overcame even before he served. With those hurdles behind him, Bernard went on to become one of NASA's senior administrators after the war. Sadly, we lost Bernard on October 17, 2018, at the age of 101. What better way to honor his life of service to the United States than by taking a few minutes to listen to his story.
If you'd prefer to read Bernard's story, check out the written version of this podcast.
We hope you enjoy Bernard's story, and don't forget to subscribe to the Voices to Veterans podcast for an inspiring veteran's story each and every month.