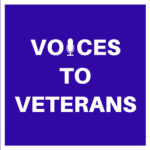 Welcome to Episode 33 of the Voices to Veterans podcast. This episode features the story of Senior Airman Robert Johnson, U.S. Air Force.
When you think of the Cold War, you think of the nuclear standoff between the United States and the Soviet Union. When Bob Johnson thinks of the Cold War, he literally thinks of bone-chilling cold because he was stationed at Thule Air Base in Greenland, located just 950 miles from the North Pole. Bob served as a radio operator at Thule, communicating with U.S. military aircraft operating above the Arctic Circle. His descriptions of the brutal weather conditions at Thule will have you glad you live where you do, no matter where that is. To listen to his story, just click on the red arrow, above.  
If you'd prefer to read Bob's story, or want to see additional photographs documenting his service, please check out the written version of this podcast.
Also, if you enjoyed Bob's story, please sign up for the Voices to Veterans Spotlight monthly newsletter by clicking here. Once each month, you'll receive a new written veteran's story and a new podcast directly in your mailbox. Best of all, it's free and you can unsubscribe at any time.