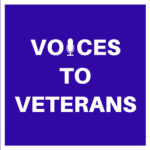 Welcome to Episode 32 of the Voices to Veterans podcast. This episode features the story of Master Chief Legalman David S. Leafer, U.S. Navy (Retired).
Dave Leafer enlisted in the Navy in 1981 to see the world and see the world he did. Not only did he deploy to the Indian Ocean and the Mediterranean Sea on a World War II-era destroyer tender, but he also participated in Operation Desert Storm during a wartime deployment aboard the aircraft carrier USS Saratoga (CV-60). Decorated for pulling a seriously injured man from a burning car about to explode, Dave set the consummate example of leadership throughout his thirty-year career. If you want to see what makes the U.S. Navy's sailors the best in the world, you need to listen to Dave's story.
If you'd prefer to read Dave's story, or want to see additional photographs documenting his service, please check out the written version of this podcast.
Also, if you enjoyed Dave's story, please sign up for the Voices to Veterans Spotlight monthly newsletter by clicking here. Once each month, you'll receive a new written veteran's story and a new podcast directly in your mailbox. Best of all, it's free and you can unsubscribe at any time.