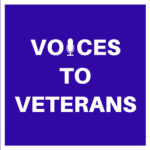 Welcome to Episode 34 of the Voices to Veterans podcast. This episode features the story of Sergeant Kenny L. Esmond, U.S. Army.
Kenny spent harrowing evenings standing perimeter guard duty at Phu Bai and Fire Base Bastogne near Hue City in the Republic of South Vietnam during 1970 and 1971. Holding his position with enemy rocket-propelled grenades flying overhead and enemy soldiers probing the perimeter, Kenny felt the intense fear of not knowing whether he would survive. He also managed an ammo dump for the 1st Battalion of the 502nd Infantry Regiment in Phu Bai, heloing into the field to keep the local fire bases supplied with much needed ammunition. To listen to Kenny's story, just click on the red arrow, above. 
If you'd prefer to read Kenny's story, or want to see additional photographs documenting his service, please check out the written version of this podcast.
Also, if you enjoyed Kenny's story, please sign up for the Voices to Veterans Spotlight monthly newsletter by clicking here. Once each month, you'll receive a new written veteran's story and a new podcast directly in your mailbox. Best of all, it's free and you can unsubscribe at any time.