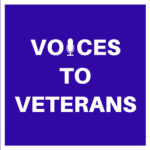 Welcome to Episode 25 of the Voices to Veterans podcast. This episode features the story of Specialist Billy Terrell, U.S. Army.
Billy Terrell has one of the most incredible stories I've encountered. He had just started to pull himself out of poverty by writing a song that was recorded by the Duprees in 1965. The same month Billy's song was recorded, he received his draft notice and was on his way to Vietnam. Two extraordinary events stand out from his service. First, he would have died from malaria had it not been for motion picture star Martha Reye, who visited him repeatedly in the 8th Field Hospital in Nha Trang to make sure he recovered. Second, Billy helped Vietnamese nuns and children fleeing the Viet Cong build an orphanage that would serve as a sanctuary for the children and offer a lifeline of humanity to the men in Billy's unit. I am inspired by Billy's story every time I hear it.
If you'd prefer to read Billy's story, or want to see additional photographs documenting his service, please check out the written version of this podcast.
If you enjoyed Billy's story, please sign up for the Voices to Veterans Spotlight monthly newsletter by clicking here. Once each month, you'll receive a new written veteran's story and a new podcast directly in your mailbox. Best of all, it's free and you can unsubscribe at any time.