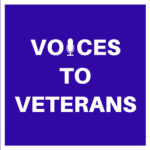 Welcome to Episode 24 of the Voices to Veterans podcast. This episode features the story of Specialist Jack Murphy, U.S. Army.
Twenty-five years after patrolling the rice paddies of the Mekong Delta and the triple-canopy jungles of Vietnam, the moment of inspiration Jack had been waiting for finally arrived. He picked up his guitar and composed a poignant song about the Vietnam War – The Promise. The song was so powerful, it was played at the Memorial Day remembrance ceremony at the Vietnam Veterans Memorial in Washington, DC, in 1996. Now you can hear the story behind the music and at the end of Jack's story, you can listen to Jack sing The Promise. It is a moving experience.
If you'd prefer to read Jack's story, or want to see additional photographs documenting his service, please check out the written version of this podcast. You can listen to The Promise at the end of the written story, too.
If you enjoyed Jack's story, please sign up for the Voices to Veterans Spotlight monthly newsletter by clicking here. Once each month, you'll receive a new written veteran's story and a new podcast directly in your mailbox. Best of all, it's free and you can unsubscribe at any time.