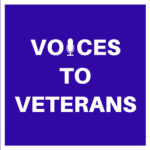 Welcome to Episode 26 of the Voices to Veterans podcast. I'm your host, David E. Grogan, and today we feature the story of Sergeant Daniel J. Smith, U.S. Army.
Daniel joined the Army in 1986 because he wanted something bigger for his life. He chose to become a medic and excelled in his field, graduating #2 out of 800 in his training class at Fort Sam Houston in San Antonio, Texas. He continued to excel with the 42nd Field Hospital in Fort Knox, Kentucky, using his training to maintain unit readiness and save lives. His Army experience was just the beginning, as he embarked on a remarkable modeling career and later coached Wounded Warriors in international competitions. His story is unique, inspiring, and well worth listening to.
If you'd prefer to read Daniel's story, or want to see additional photographs documenting his service, please check out the written version of this podcast.
Please sign up for the Voices to Veterans Spotlight monthly newsletter by clicking here. Once each month, you'll receive a new written veteran's story and a new podcast directly in your mailbox. Best of all, it's free and you can unsubscribe at any time.