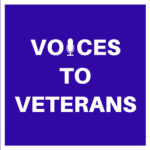 Welcome to the inaugural episode of the Voices to Veterans podcast. This month you'll here the story of Sergeant Richard (Dick) Berg, U.S. Army.
Dick was the very first veteran we interviewed for the Voices to Veterans series and we think you'll find his story a real treat. Dick deployed to Vietnam during the height of the Vietnam War in 1967 and served in country for one year. He's got some really funny Army stories that are guaranteed to make you smile. Dick's story may also give you a way to break the ice if you'd like to ask family members or friends about their military service but don't know where to start.
If you'd prefer to read Dick's story, or want to see additional photographs of Dick in Vietnam, check out the written version of this podcast. 
We hope you enjoy Dick's story, and don't forget to subscribe to the Voices to Veterans podcast for an inspiring veteran's story each and every month.