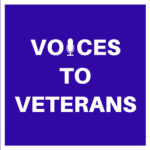 Welcome to Episode 12 of the Voices to Veterans podcast. This episode features the story of Petty Officer Third Class Jim McCune, U.S. Navy.
Jim McCune served aboard the aircraft career USS KITTY HAWK doing one of the most dangerous jobs in the world – launching and recovering the ship's aircraft during flight operations at sea.
As part of his tour on active duty, Jim sailed on KITTY HAWK from San Diego, California, around the world to Philadelphia, Pennsylvania. Like the Navy recruiting slogan promised, he truly did see the world. When he returned to the United States, though, tragedy struck. Only Jim's courage and his wife's love brought their family through, turning something bad into something good for children in their community. Jim's story is one we all need to hear.
If you'd prefer to read Jim's story, or want to see additional photographs documenting his service, check out the written version of this podcast.
We hope you enjoy Jim's story, and don't forget to subscribe to the Voices to Veterans podcast on Apple Podcasts, Google Podcasts, Spotify, or Stitcher, for an inspiring veteran's story each and every month.