Have you ever heard the Navy's old recruiting slogan, "Join the Navy and see the world?" That slogan certainly rang true for Petty Officer Third Class Jim McCune, U.S. Navy. But life had much more in store for Jim than the excitement of a world cruise on a powerful U.S. aircraft carrier—he and his young family would face incredible adversity. Instead of giving up, Jim and his wife, Tonya, relied on each other and got through it together, stronger for the experience. This is Jim's story.
Jim was born in 1967 and raised in a small town in northwest Illinois, not far from the Iowa border. Jim's dad was a steelworker who taught him the value of hard work, but when Jim was in high school, his parents divorced and Jim moved with his mother to Savanna, Illinois, right on the Mississippi River. Jim attended Savanna High School for his junior and senior years, and that's where he met Tonya. He was so sure Tonya was the right woman for him that he proposed to her during his junior year.
Jim's proposal made him start thinking about finding a job after graduation that would allow him to marry and support Tonya. He initially thought he would join the Army and become a heavy equipment operator, but when his older brother, Tim, heard about his plans, he told Jim he should go Navy instead. In fact, Jim's two older brothers thought joining the Navy was such a good idea, they wanted to enlist with Jim.
To further their plan, Tim invited a Navy recruiter to their house – Charlie Nash from Tennessee. With a thick Tennessee accent, he promised the three brothers, "I will take care of you and carry you into the service." The McCune brothers were convinced and they signed the enlistment papers. But because Jim was still in high school and they all weren't ready to go yet, they entered the Delayed Entry Program with a report for duty date in August 1986.
Jim graduated from high school in the spring of 1986 and married Tonya on June 14, giving him only two months with his new bride before he had to report to the Navy. One of his two older brothers joining the Navy with him, Randy, also got married before they departed. So, on August 12, 1986, Jim's mother and the new brides took Jim, Tim and Randy to the Greyhound Bus terminal in Sterling, Illinois, and bid them farewell.
The bus was full of Navy enlistees and it took them directly to boot camp at the Recruit Training Command in Great Lakes, Illinois, just north of Chicago. As soon as they arrived, the staff came on the bus yelling and had them form in a line outside. They marched as a group to their new barracks and their boot camp adventure officially started, beginning with trashcans rolling down the aisles to wake them up at 4:00 a.m.
Jim was in Company 290 – "Solid Gold". The company bonded as a unit and had a lot of spirit, working together and developing cadences they could use when marching around base. When anyone's mother, wife, or girlfriend sent goodies, they shared them with everyone in the company. They also helped each other get through the trials and tribulations of boot camp. When it came time for graduation, Jim's mom and Tonya came to the ceremony. They got to spend the weekend together before the three brothers had to report to their first Navy school on Monday morning.
Jim and Tim's enlistment contract guaranteed they would attend school to become Electronics Technicians, but Randy had no such guarantee. So, on Monday morning when Jim and Tim started Basic Electricity and Electronics School, Randy started a general school that corresponded with the name of his rank – Airman Apprentice. Two weeks into classes, Jim failed a hearing test and was told he could no longer be an Electronics Technician. He was given the option of getting out of the Navy since he would not be getting what his enlistment contract promised.
Rather than get out, Jim said he would stay in if he could catch up with Randy at Airman Apprentice School. The Navy said yes, so Jim joined Randy and spent every night studying to catch up for the two weeks of school he was already behind. Jim completed school with Randy and finished on time.
After Jim and the others completed Airman Apprentice School, they were marched to the personnel office to receive their orders. Each new sailor opened his package excitedly to see where he was going. Jim's orders were for North Island in San Diego, California. This was a big deal for a nineteen-year-old who had never really been more than twenty-five miles away from his home growing up in Illinois.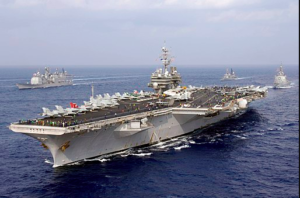 After a week of leave with Tonya in Savanna, Jim flew to San Diego, arriving in uniform around midnight with everything he owned in a heavy green sea bag. A Navy Petty Officer saw Jim looking lost and helped him find the duty driver. The driver took Jim to Naval Air Station North Island, the homeport for Jim's new ship, the USS KITTY HAWK. Not knowing that the duty driver would have taken him all the way to his ship, Jim got out of the car at the front gate and walked two miles to his ship carrying his sea bag. When he arrived on board, he checked in and went right to sleep.
When Jim woke up, he learned he'd be working on the flight deck, but he wouldn't be starting out there. As a new junior sailor, he'd have to pay his dues by starting out cleaning the berthing compartments on the ship, which was a job everyone looked down upon. But he worked hard and started looking for the chance to move to the flight deck as soon as possible.
On January 3, 1987, KITTY HAWK got underway from San Diego for what Jim understood to be a leisurely cruise heading west around the world to the Philadelphia Navy Yard, where the ship would go into dry dock for an extended overhaul. The cruise proved to be anything but leisurely, as KITTY HAWK spent almost 120 days conducting flight operations (launching and recovering the ship's aircraft) in the Gulf of Oman during a period of increasing tensions in and around the Persian Gulf.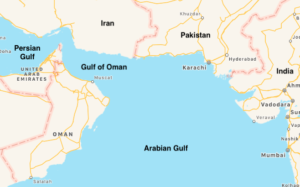 During flight operations, Jim worked on the flight deck, which is recognized to be one of the most dangerous jobs in the world. In fact, before he was even permitted to go onto the flight deck to begin training, he spent four days in the "crow's nest" on the carrier's bridge watching the intricate teamwork involved in launching and recovering aircraft at sea.
When Jim went onto the flight deck for the first time, he was "married" with an experienced sailor and had to hold onto the sailor's belt to follow him wherever he went. Standing or walking in the wrong place could result in getting blown off the ship by jet blast, walking into a spinning propeller, or getting sucked into a jet engine intake, so there was no room for error. Jim remembers learning this lesson standing behind a jet blast deflector on the flight deck. He and his partner were watching a jet get ready to take off and Jim didn't notice his partner turn around. When the jet took off, he felt the searing heat on this face. It was a lesson all new flight deck personnel had to learn.
Jim worked on the aft (rear) of the flight deck, placing and removing chocks under aircraft wheels, chaining aircraft to the deck, attaching and removing tow bars, and helping to spot aircraft throughout the day. It was grueling work in the intense sun of the Gulf of Oman, and Jim became very tanned and fit. His workday routinely ran for twenty to twenty-two hours, so he learned to eat quickly and sleep standing up while leaning against a bulkhead (wall). Every night, though, before going to sleep, he wrote a letter to Tonya, and he cherished receiving the daily letters she sent him.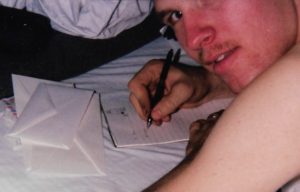 On March 31, 1987, after Jim finished work and was in his berthing spaces, he heard someone yelling. When he went to check it out, someone said there was a fire in the hangar bay, which is the large area below the flight deck where aircraft can be brought down by elevator for maintenance. Jim started to pass the word, but then heard the announcement over the ship's speakers, "General Quarters, General Quarters," telling the crew there was a fire. The fire was massive and Jim and other sailors quickly moved aircraft away from the flames to keep the fire from getting worse. The fire was eventually extinguished without injury or loss of life.
Two times on the flight deck Jim came close to being seriously injured. On one occasion, he was walking under an F-14 "Tomcat" jet fighter made famous in the Tom Cruise movie "Top Gun" when he sliced his head open on an instrument extending from the bottom of the plane. He was immediately taken to the ship's hospital and stitched up, and was back on the flight deck in forty-five minutes. On another occasion, jet blast pinned him against the landing gear of the plane he was working under. Had the plane moved, he could have been crushed. Others weren't so lucky. One day he watched as the jet blast from a plane blew a Chief Petty Officer off the deck and into the water sixty-four feet below. "Man overboard" was quickly called and the Chief was recovered safely, but it was yet another reminder of the dangerous business they were engaged in.
Not everything aboard KITTY HAWK involved work. Unbelievably, Jim met two guys he knew from Savanna High School on board. He unknowingly sat down at dinner next to one and learned about the other who had been working only about twenty feet away from him on the flight deck and he didn't even know it! He also got to watch as the ship put on air shows for foreign dignitaries and enjoyed "steel beach picnics" where the crew could relax on deck and enjoy two beers, a luxury they earned after forty-five continuous days at sea. Since Jim doesn't drink, he pocketed some extra money by selling his two beers to his thirsty shipmates. He also became a crusty "shellback" on April 25, 1987, a name given to sailors after they cross the equator for the first time and participate in a mock ceremony to document the event.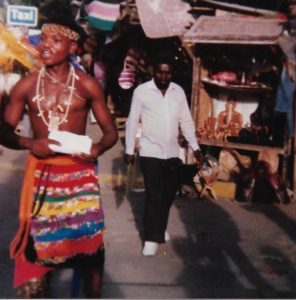 Jim visited a number of exotic ports during KITTY HAWK's cruise. He saw the Philippines twice; Karachi, Pakistan; and Mombasa, Kenya. He also sailed through the Suez Canal and stopped in Cannes, France, and Palma de Mallorca, Spain, and sailed close to the Rock of Gibraltar before heading home across the Atlantic Ocean. Finally, after a brief stop in Norfolk, Virginia, KITTY HAWK pulled into the Naval Shipyard in Philadelphia, bringing an end to the six-month cruise.
Once back in the states, Jim took leave to see Tonya in Illinois. He remembers how beautiful she looked at the airport waiting for him, reminding him of the way he felt on his wedding day. She barely recognized him, though, given how fit and tanned he was. After Jim's leave, Tonya moved with him to Philadelphia, taking an apartment in Delaware about thirty-minutes from the shipyard.
On June 13, 1989, Tonya gave birth to their daughter, Stephanie Jo. The baby had hydrocephalus, and she remained in neonatal intensive care for three months. Stephanie later began to experience severe seizures, so this was a very difficult time for the family. Then, about one year later when Tonya was six-months pregnant with their second child, someone at Jim's part-time job at a warehouse accidentally ran into him with the raised forks of a forklift, pinning Jim against the forklift Jim was driving and nearly severing Jim's left leg. Jim was hospitalized for months and in physical therapy for a year and a half. Sadly, Stephanie passed away about six months after Jim was injured.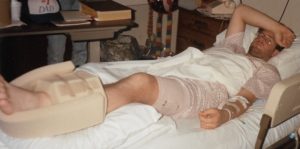 Jim was medically retired from the Navy in November 1991. He credits one of his Navy buddies, Bill Atkinson, with helping get him back on his feet by taking him fishing. This began Jim's lifelong passion for fishing, which he has shared with countless youth in Illinois through fish derbies, high school fishing teams, and teaching underprivileged youth to fish. His work with kids fits well with his and Tonya's other calling, which is serving as foster parents for children in their community. Over the last twenty years, they've fostered numerous children and adopted four, making Jim and Tonya role models and real-life heroes for many families in their community.
Jim currently works as a physical education teacher at Leal Elementary School in Urbana, Illinois. Jim pursued his career in education after a warehouse supervisor refused to consider him for promotion because he didn't have a college education. Both challenged and motivated, Jim used his Vocational Rehabilitation and GI Bill Benefits to get his bachelor's degree from the University of Illinois after doing his initial college coursework at Parkland Community College. Tonya also continued her education and became a nurse.
As Jim looks back on his military service, he credits the Navy with teaching him to respect people from all different backgrounds and to better understand what life is like in other countries. Jim still talks about his Navy days with his Navy friends, and believes the Navy is a good option for young men and women to learn an occupation and get started in life.
Voices To Veterans is proud to salute Petty Officer Third Class Jim McCune, U.S. Navy, for his dedicated service in the Navy and for his and Tonya's work with children in their community. We are thankful to both of them for all they have done and all they continue to do!
If you enjoyed Jim's story, please sign up for the Voices to Veterans Spotlight monthly newsletter by clicking here. Once each month, you'll receive a new written veteran's story and a new podcast directly in your mailbox. Best of all, it's free and you can unsubscribe at any time.