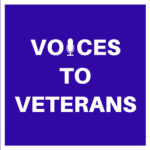 Welcome to Episode 11 of the Voices to Veterans podcast. This episode features the story of Staff Sergeant Jerry Ingram, U.S. Marine Corps.
Enlisting in 1942 and lying about his age, Jerry soon found himself driving tanks in the island-hopping war against Japan in 1944. After participating in a number of major engagements, including the Battle of Iwo Jima, Jerry served as part of the occupation forces in China until he was honorably discharged in 1946.
After surviving the war and dealing with its aftereffects on his health, Jerry had two close calls with death that lead another Marine to call Jerry indestructible. Jerry is sure he survived, though, to convey the message of just how precious a gift our freedom is.
If you'd prefer to read Jerry's story, or want to see additional photographs documenting his service, check out the written version of this podcast.
We hope you enjoy Jerry's story, and don't forget to subscribe to the Voices to Veterans podcast on Apple Podcasts, Google Podcasts, Spotify, or Stitcher, for an inspiring veteran's story each and every month.