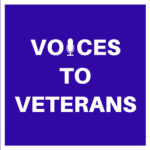 Welcome to Episode 13 of the Voices to Veterans podcast. This episode features the story of Private First Class Richard H. Adler, U.S. Army.
Rick was drafted and fought in Vietnam from July 1969 to July 1970. He was assigned to the "Jungle Warriors" of Delta Company, 4th Battalion, 3rd Infantry Regiment, in the vicinity of Duc Pho and Chu Lai.
In August of 1969, Rick's unit was ambushed and Rick was wounded three times. Despite his wounds, he continued to fight on. Forty-seven years later, he was awarded the Silver Star for his actions and his gallantry under fire.
Rick's story provides an excellent window into what the life of a U.S. combat soldier in Vietnam was like. After listening, you'll have a much better appreciation for the sacrifices our soldiers made in serving our country.
If you'd prefer to read Rick's story, or want to see additional photographs documenting his service, check out the written version of this podcast.
We hope you enjoy Rick's story, and don't forget to subscribe to the Voices to Veterans podcast on Apple Podcasts, Google Podcasts, Spotify, or Stitcher, for an inspiring veteran's story each and every month.