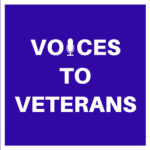 Welcome to Episode 10 of the Voices to Veterans podcast. This episode features the story of Specialist 4 Tom Garvey, U.S. Army. Tom was drafted in 1966 and served in Vietnam from February 1967 through February 1968.
Tom served in the 1st Battalion of the 40th Field Artillery Regiment, known as the 1st of the 40th. He joined the unit in South Vietnam as a replacement soldier, serving as a crewmember of a self-propelled 105mm howitzer. With a mission of supporting the Marines near the Demilitarized Zone between South and North Vietnam, Tom and his unit saw continuous action for his entire tour.
Tom's experience in the Vietnam War changed the trajectory of his life. After the war, he pursued a career in healthcare so he could spend his life helping people. He also dedicated himself to keeping the bonds of friendship and mutual support alive between all those who served in Charlie Battery of the 1st of the 40th. There is much we all can learn from Tom's story. 
If you'd prefer to read Tom's story, or want to see additional photographs documenting his service, check out the written version of this podcast.
We hope you enjoy Tom's story, and don't forget to subscribe to the Voices to Veterans podcast for an inspiring veteran's story each and every month.