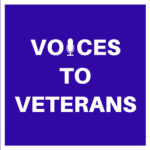 Welcome to Episode 9 of the Voices to Veterans podcast. This episode features the story of Sergeant George A. Williams, U.S. Army. George was drafted in 1965 and served in Vietnam from September 1966 through September 1967.
George's story is the story of the American citizen soldier. He answered his country's call during time of war, fought bravely as part of two artillery units in Vietnam, and then returned to central Illinois to get on with his life and try to put the war behind him. That wasn't easy, as images of the war are still vivid in his memory, but he is proud of his service and that of the men he served with halfway around the world. Once you listen to George's story, I think you'll be proud, too.
If you'd prefer to read George's story, or want to see additional photographs documenting his service, check out the written version of this podcast.
We hope you enjoy George's story, and don't forget to subscribe to the Voices to Veterans podcast for an inspiring veteran's story each and every month.