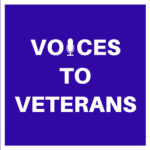 Welcome to Episode 8 of the Voices to Veterans podcast. In honor of Memorial Day, this episode features the story of Sergeant First Class Alan L. Boyer, U.S. Army. Alan was declared Missing in Action after a mission into Laos in 1968. Forty-eight years later, his remains were finally recovered and he received a proper burial with full military honors at Arlington National Cemetery. He was also awarded the Silver Star for his personal bravery and gallantry under fire.
Alan's story is about love of country and love of family. Alan loved the United States more than life itself and felt compelled to serve in the Army during time of war. In return, Alan's family never lost hope that he would be found, keeping the focus on him and other soldiers declared Missing in Action during the Vietnam War and supporting the Department of Defense efforts to recover missing service members.
Before celebrating Memorial Day with your family, please take a few minutes to listen to Alan's story. His sacrifice, and the sacrifice of others like him, is why we enjoy the freedoms we have in this country.
If you'd prefer to read Alan's story, or want to see additional photographs documenting his service, check out the written version of this podcast.
We hope you enjoy Alan's story, and don't forget to subscribe to the Voices to Veterans podcast for an inspiring veteran's story each and every month.