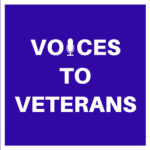 Welcome to Episode 7 of the Voices to Veterans podcast. This month features the story of First Sergeant Mike Allen, a career Army soldier who began his service under fire in the jungles of South Vietnam.
Mike served in the 1st Battalion, 7th Cavalry, 1st Cavalry (Airmobile) Division, which helped revolutionize U.S. tactics by quickly deploying soldiers by helicopter to where they were needed most. Mike's first jump from a helicopter came after a shove from a crew chief's boot, and after that he never looked back. He displayed courage under fire throughout his tour and followed his service in Vietnam with a long and distinguished Army career.
If you'd prefer to read Mike's story, or want to see additional photographs documenting his service, check out the written version of this podcast.