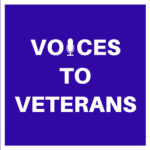 Welcome to Episode 35 of the Voices to Veterans podcast. This episode features the story of Master Sergeant Jay Cyril Mastrud, U.S. Air Force.
Jay's story is one of resilience and overcoming adversity. He first served as a sailor with fighter squadron VF-32 onboard the aircraft carrier USS John F. Kennedy (CV-67), deploying in support of Operation Desert Shield/Desert Storm. After the Navy, he continued his service in the Air National Guard. Throughout much of his service, Jay struggled with unresolved trauma. Then, in 2010, he found Veterans in the Arts, which set him on the path toward healing. Now he is a staunch advocate for seeking professional help to overcome life's hurdles and sees doing so as a sign of strength and determination. To listen to Jay's inspiring story, just click on the red arrow, above. 
If you'd prefer to read Jay's story, or want to see additional photographs documenting his service, please check out the written version of this podcast.
Also, if you enjoyed Jay's story, please sign up for the Voices to Veterans Spotlight monthly newsletter by clicking here. Once each month, you'll receive a new written veteran's story and a new podcast directly in your mailbox. Best of all, it's free and you can unsubscribe at any time.