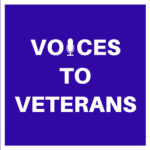 Welcome to Episode 36 of the Voices to Veterans podcast. This episode features the story of Private First Class Oscar W. Green, U.S. Army.
While I love all the veterans' stories I've done, Oscar's is one of my all-time favorites. His story is both a war story and a love story – it's about a young man who went off to war and the young wife who saved him when he returned badly wounded. It's action packed, with combat scenes as Oscar fights through Germany with the 44th Infantry Division, and it's human and real, as his wife Mary sends him off to war and then helps heal him when he returns. Both Oscar and Mary are true American heroes and founding members of the Greatest Generation. This is one story you won't want to miss.
To listen to Oscar's story, just click on the red arrow, above. 
If you'd prefer to read Oscar's story, or want to see additional photographs documenting his service, please check out the written version of this podcast.
Also, if you enjoyed Oscar's story, please sign up for the Voices to Veterans Spotlight monthly newsletter by clicking here. Once each month, you'll receive a new written veteran's story and a new podcast directly in your mailbox. Best of all, it's free and you can unsubscribe at any time.