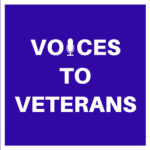 Welcome to Episode 30 of the Voices to Veterans podcast. This episode features the story of Staff Sergeant Jim Belshaw, U.S. Air Force.
Jim enlisted in the Air Force in 1962 shortly after graduating from high school. He volunteered to become a working dog handler during his first tour at a fighter base in England, charting the course for his military career. He reenlisted in 1966, knowing that with the Vietnam War raging, he would likely end up in Southeast Asia. Such would be the case, as he soon found himself at Ubon Air Base in Thailand in charge of a flight of K-9 sentries defending the base. After the war, Jim became an award winning journalist, even covering historic visits by Vietnam veterans to Vietnam in 1994 and 1995. Sadly, Jim passed away in 2022. However, listening to his story is a great way to pay tribute to this exceptional man's life and service to our country.
If you'd prefer to read Jim's story, or want to see additional photographs documenting his service, please check out the written version of this podcast.
Also, if you enjoyed Jim's story, please sign up for the Voices to Veterans Spotlight monthly newsletter by clicking here. Once each month, you'll receive a new written veteran's story and a new podcast directly in your mailbox. Best of all, it's free and you can unsubscribe at any time.