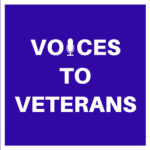 Welcome to Episode 28 of the Voices to Veterans podcast. This episode features the story of Colonel, Hank Hoffman, U.S. Air Force (Retired).
Hank's Air Force career can only be described as extraordinary. A 1963 graduate of the Air Force Academy, he began his career by flying B-52 nuclear deterrence missions, including circling over the North Pole in case he needed to respond to a nuclear attack on the United States. He then flew 172 B-52 combat missions over North and South Vietnam and, as if that wasn't enough, flew 205 more in the A-37 attack aircraft, providing close air support to U.S. and allied forces on the ground. After the war, he continued his distinguished Air Force career as a test pilot. He still serves today by speaking to cadets at the Air Force Academy about his experiences.
If you'd prefer to read Hank's story, or want to see additional photographs documenting his service, please check out the written version of this podcast.
Also, if you enjoyed Hank's story, please sign up for the Voices to Veterans Spotlight monthly newsletter by clicking here. Once each month, you'll receive a new written veteran's story and a new podcast directly in your mailbox. Best of all, it's free and you can unsubscribe at any time.