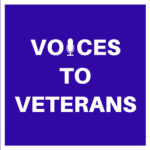 Welcome to Episode 27 of the Voices to Veterans podcast. This episode features the story of Private First Class Robert F. Burgess, U.S. Army.
Bob Burgess has always been someone who's lived life on his own terms. From enlisting in the Army rather than waiting to be drafted, to experiencing all that living in post-war Europe had to offer, Bob has made life an adventure. He's stood guard in the Italian Alps watching for escaping war criminals, served on the front line of the Cold War staring down communist forces, and even spent two days drinking with Ernest Hemmingway in Spain. His story is one of the most intriguing I've heard and it made me wish I was in my twenties again.  
If you'd prefer to read Bob's story, or want to see additional photographs documenting his service, please check out the written version of this podcast.
Please sign up for the Voices to Veterans Spotlight monthly newsletter by clicking here. Once each month, you'll receive a new written veteran's story and a new podcast directly in your mailbox. Best of all, it's free and you can unsubscribe at any time.