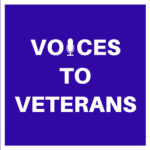 Welcome to Episode 23 of the Voices to Veterans podcast. This episode features the story of Lieutenant Colonel John Heimburger, U.S. Air Force.
If John Heimburger has a bucket list, there is nothing left on it. He's taken on every challenge in life and met it head on. From flying 665 combat missions in Vietnam to climbing some of the highest mountain peaks around the world, John has lived life to its fullest. Running throughout his adventures is a constant theme – service to country, service to community, and service to fellow veterans. If you're looking for a positive role model to live your life by, or you want to inspire someone to live a life without regrets, then Lieutenant Colonel John Heimburger's story is one you won't want to miss.
If you'd prefer to read John's story, or want to see additional photographs documenting his service, please check out the written version of this podcast.
If you enjoyed John's story, please sign up for the Voices to Veterans Spotlight monthly newsletter by clicking here. Once each month, you'll receive a new written veteran's story and a new podcast directly in your mailbox. Best of all, it's free and you can unsubscribe at any time.