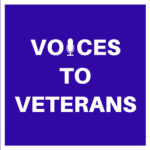 Welcome to Episode 22 of the Voices to Veterans podcast. This episode features the story of Petty Officer Second Class Arnold Fernandes, U.S. Coast Guard.
Arnold's service spanned two wars, World War II and the Korean War, and two services, the U.S. Coast Guard and the U.S. Navy. In World War II, Arnold served in one of the most inhospitable theaters of the war—the Aleutian Islands. There he served aboard a Coast Guard cutter searching for Japanese submarines and protecting U.S. ships sailing the north Pacific. His service continued in the Navy during the Korean War, training others to follow in his footsteps hunting enemy submarines. His life at sea was filled with adventure and excitement, and more than once he cheated death and lived to tell about it. His story will have you sitting on the edge of your seat.
If you'd prefer to read Arnold's story, or want to see additional photographs documenting his service, please check out the written version of this podcast.
If you enjoyed Arnold's story, please sign up for the Voices to Veterans Spotlight monthly newsletter by clicking here. Once each month, you'll receive a new written veteran's story and a new podcast directly in your mailbox. Best of all, it's free and you can unsubscribe at any time.