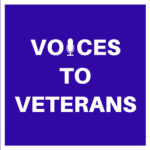 Welcome to Episode 21 of the Voices to Veterans podcast. This episode features the story of Staff Sergeant Adam Joseph, U.S. Army.
Adam served in the artillery and did two tours in Vietnam, both in the northern part of South Vietnam where he was constantly under fire. His luck ran out during his second tour and he was seriously wounded. Eventually he made it back to the United States where his faith and his family helped him make the transition to civilian life. His story is one of courage and resilience, overcoming even the tragedy of Hurricane Katrina. You won't want to miss Adam's story.
If you'd prefer to read Adam's story, or want to see additional photographs documenting his service, please check out the written version of this podcast.
If you enjoyed Adam's story, please sign up for the Voices to Veterans Spotlight monthly newsletter by clicking here. Once each month, you'll receive a new written veteran's story and a new podcast directly in your mailbox. Best of all, it's free and you can unsubscribe at any time.