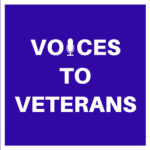 Welcome to Episode 20 of the Voices to Veterans podcast. This episode features the story of Private First Class Sue (Van Meter) Hodge, U.S. Army.
As a kid growing up in Oklahoma, Sue watched her older brothers serve in the Army and the Air Force and wanted desperately to join the military, too. She didn't know, though, that women could enlist until one of her brothers told her she could. A few years later, Sue fulfilled her dream by joining the Women's Army Corps, also known as the WACs. Sue's story provides a window into what it was like to be a woman in the Army in the early 1960s, dealing with the Cuban Missile Crisis and paving the way for the many women who serve in the U.S. military today.
If you'd prefer to read Sue's story, or want to see additional photographs documenting her service, please check out the written version of this podcast.
We hope you enjoy Sue's story, and don't forget to subscribe to the Voices to Veterans podcast on Apple Podcasts, Google Podcasts, Spotify, or Stitcher, for an inspiring veteran's story each and every month.
You can also sign up for the monthly Voices to Veterans Spotlight Newsletter. That way you'll have the latest veterans' stories delivered to you by email, so you won't miss any of the great stories our veterans have to tell.