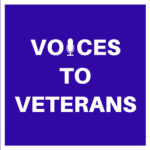 Welcome to Episode 19 of the Voices to Veterans podcast. This episode features the story of Command Sergeant Major Thurman C. Cousins, U.S. Army (Retired).
Thurman Cousins is a soldier's soldier. Steeled in battle during the Korean War, he went on to serve two combat tours in Vietnam and rose to the Army's highest enlisted rank. He knew how to lead men in combat and taught them how to fight, win, and survive. To this day, he is still revered by the men he served with and is a hero in every sense of the word. He's the kind of soldier whose story needs to be told.
If you'd prefer to read Thurman's story, or want to see additional photographs documenting his service, please check out the written version of this podcast.
If you enjoyed Thurman's story, please sign up for the Voices to Veterans Spotlight monthly newsletter by clicking here. Once each month, you'll receive a new written veteran's story and a new podcast directly in your mailbox. Best of all, it's free and you can unsubscribe at any time.