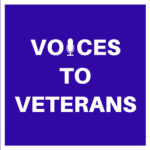 Welcome to Episode 18 of the Voices to Veterans podcast. This episode features the story of Sergeant Paul Schuler, U.S. Army.
I love Paul's story because it's a story of unlocking potential. At Basic Training, Paul was selected to be his Platoon Guide with four squad leaders reporting to him. In describing his selection, Paul notes "I'd never been picked to be first for anything before." The Army saw in Paul something he had not yet seen in himself. By the end of his tour in Vietnam in April 1971, Paul had become a confident leader, inviting others to work with him to find solutions to difficult problems. Paul's story is also filled with Army humor everyone will appreciate.
If you'd prefer to read Paul's story, or want to see additional photographs documenting his service, please check out the written version of this podcast.
We hope you enjoy Paul's story, and don't forget to subscribe to the Voices to Veterans podcast on Apple Podcasts, Google Podcasts, Spotify, or Stitcher, for an inspiring veteran's story each and every month.