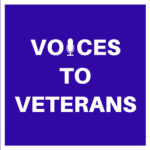 Welcome to Episode 17 of the Voices to Veterans podcast. This episode features the story of Airman Ronnie Turner-Winston, U.S. Air Force.
Ronnie has an engaging and humorous story. She enlisted in the Air Force with no prior exposure to the military or idea of what to expect. As a result, her Basic Training got off to a shaky start, but she soon found herself bonding with the other recruits in her training flight. Her service took her from bases in the Midwest to a deployment in support of the Gulf War, and made such an impression on her that she continues serving through veterans organizations to this day. Ronnie is a community leader and role model, so listening to her story is time well spent.
If you'd prefer to read Ronnie's story, or want to see additional photographs documenting her service, please check out the written version of this podcast.
We hope you enjoy Ronnie's story, and don't forget to subscribe to the Voices to Veterans podcast on Apple Podcasts, Google Podcasts, Spotify, or Stitcher, for an inspiring veteran's story each and every month.