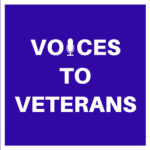 Welcome to Episode 14 of the Voices to Veterans podcast. This episode features the story of Tech Sergeant Susie Goebel, U.S. Air Force (Retired).
Susie joined the Air Force in 1980, following in her father's footsteps. She went to boot camp just four years after women were able to enlist on the same basis as men, so she helped pave the way for the many women who serve in the military today by proving to everyone that women could get the job done. Although Susie would say she was just doing her job, she was a trailblazer in every sense of the word. She retired from the Air Force in 1995 after fifteen years of distinguished service.
If you'd prefer to read Susie's story, or want to see additional photographs documenting her service, check out the written version of this podcast.
We hope you enjoy Susie's story, and don't forget to subscribe to the Voices to Veterans podcast on Apple Podcasts, Google Podcasts, Spotify, or Stitcher, for an inspiring veteran's story each and every month.