Some people have a knack for telling stories. When you listen, you can't help but share in their excitement as they reveal an unexpected outcome or describe an event that made a difference in their lives or the lives of other people. Petty Officer Third Class Eugene Walker, U.S. Navy, has the storytelling gift. If he were a guest at your home, you would easily listen for hours as he regaled you with stories about the places the Navy had taken him, the people he'd met, and the things he gotten to do. If you asked him to sum it up when he finished, you'd watch him get emotional and declare his service in the Navy opened doors for him throughout his entire life. This is his story.
Gene was born in Canton, Illinois, in July 1943. Soon after his birth, his father joined the Navy and was dispatched to the West Coast to join his ship, the escort carrier USS Altamaha (CVE 18). Gene's father took his young wife with him, but they left Gene with his paternal grandparents, Wayne and Dale Walker. Gene's parent's marriage did not survive the war and, with Gene's father deployed, Gene's mother wrote Wayne Walker and told him she could not take Gene back. In her letter, she asked if Wayne and Dale could take care of Gene for her, which they did, raising Gene as if he were their own son.
Gene began at a very young age helping around his grandparent's farm. He fed and groomed the animals and even learned to drive a tractor when he was six years old. He started first grade in a one-room schoolhouse, but then his grandparents moved in 1950 to another farm in Ipava, Illinois, a small town located about 175 miles southwest of Chicago. This move allowed Gene to finish school in a larger school district enrolling students from Ipava, Vermont, and Table Grove, Illinois.
All through elementary, middle, and high school, Gene worked hard on the farm. If the buildings needed repair or the barn's roof needed patching or new shingles, Gene and his grandfather did it themselves. Needless to say, the work around the farm kept Gene in great shape, so it was only natural that he played football and ran track for VIT High School. Gene graduated from high school in the spring of 1961, one of forty-four VIT "Hornet" seniors to graduate that year.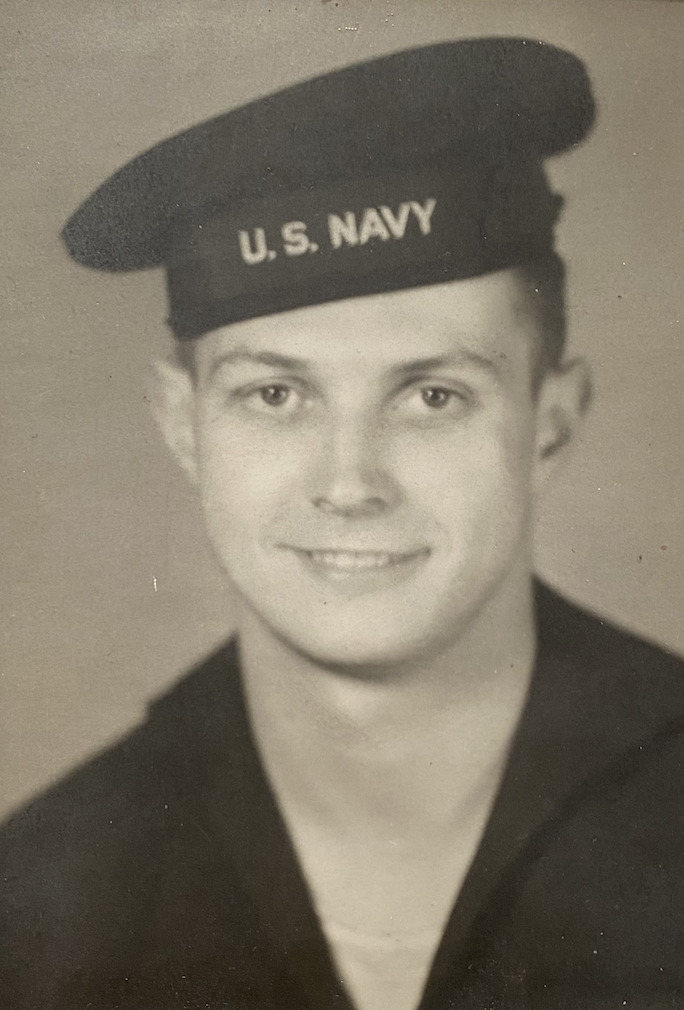 After high school, Gene attended Canton Community College beginning in the fall of 1961. He attended on a scholarship and graduated in the spring of 1963 with an Associate of Arts degree in Agriculture. With his new degree in hand, he returned to working on his grandfather's farm. He was concerned, though, that with the U.S. involvement in Vietnam growing, he might be drafted into the Army or the Marines, which he did not see as favorable options. His friends told him the best option would be to enlist in the Air Force or the Navy. Gene heeded their advice and, influenced by his father's service in the Navy, visited a Navy recruiter in Canton, Illinois. He liked what he heard and agreed to enlist.
Given the small rural environment, Gene needed to travel to Naval Station Great Lakes to get his enlistment physical and sign the enlistment contract. To make that happen, Gene's grandfather dropped him off with the recruiter on the morning on November 18, 1963. The recruiter took him to the Naval Station, where he began the intake process the next day. When it came time for the eye exam as part of his physical, the optometrist told him to stand behind a line on the floor, take off his glasses, and read the smallest line he could see clearly. Gene did as instructed and replied, "I can't read anything, sir." Unfazed, the optometrist told Gene to start walking toward the eye chart and let him know when he could read the letters. Gene got to within two feet of the wall and announced that he could now read the giant "E" on the chart. Seeing that Gene was acutely nearsighted, the optometrist announced, "we can't use you."
Gene was devastated. He'd told everyone at home he'd joined the Navy and would now have to go back and let them know the Navy rejected him. Then, a First Class Petty Officer who'd been helping him navigate the intake process asked Gene if he wanted to go home. Gene told him, "No". The First Class Petty Officer responded, "well you aced the math test and the only thing you've not passed is the eye exam, so let's see if there is anything we can do." He took Gene back to the optometrist and asked if there was any way the optometrist could let Gene in. The optometrist thought for a moment and said, "if he promises to keep two pairs of glasses with him at all times, I'll pass him." Gene readily agreed. With the final hurdle out of the way, Gene raised his right hand with the other recruits being inducted that day and took the oath of enlistment.
The First Class Petty Officer who had saved Gene's enlistment wasn't finished yet. He told Gene it was his lucky day. Because he had scored so high in math, he had the choice of attending boot camp at the nearby Recruit Training Center at Naval Station Great Lakes where the winter temperatures were beginning to take hold, or he could attend boot camp at the Naval Training Center in sunny San Diego. Either way, after boot camp he would go to school at Naval Station Treasure Island in San Francisco to learn to be an Electronics Technician. Gene chose San Diego and soon found himself with other lucky Navy and Marine recruits on a plane departing Chicago's O'Hare Airport en route to San Diego.
Gene and the other new recruits arrived in San Diego at 2:00 a.m. on the morning of November 20. As the service representatives weren't ready to take charge of their newest recruits, they told the Marine recruits to file off the plane and line up on the right and had the Navy recruits file off the plane and line up on the left. As soon as the Marine representatives arrived, they started chewing out their recruits, just like Gene had seen in the movies. Watching that reinforced his decision to enlist in the Navy—he was glad he wasn't one of those poor Marine recruits.
Two days after Gene started boot camp in San Diego, President John F. Kennedy was assassinated. Not knowing what would happen in the country or what the military might be called upon to do, Gene wondered what he had gotten himself into. Fortunately, his training company was strong and he was designated a platoon leader, so training went well. He learned to handle the M1 Garand rifle, which his company marched around with during the course of the day. The recruits also quickly learned the rifle had another purpose. If they messed up on something, they would have to run around the grinder with the heavy M1 rifle above their head. The sanction had the desired affect and everyone did their best to avoid it. Then, on December 13, 1963, Gene received a notification through the Red Cross that his grandmother, Dale Walker, had passed away. He was granted emergency leave and attended his grandmother's funeral in Lewiston, Illinois, in his Navy dress blue uniform. The burial at the cemetery was bitter cold; the temperature was five degrees below zero.
After the funeral, Gene returned to San Diego to complete boot camp. His former company had continued training in his absence, so Gene was assigned to a new company to make up the training he had missed. Since he knew none of the men in the new company and they had already bonded prior to his arrival, Gene set his sights on just getting through the training.
As boot camp graduation drew near, a Chief Boatswain's Mate approached Gene out of the blue and told him he had a friend that Gene knew and he wanted Gene to invite the friend to graduation. He told Gene to write the friend a letter and tell her it was okay to come. Gene did as instructed, which is how Gene's mother was able to attend his graduation. This was just the third time in twenty years Gene had seen his mother.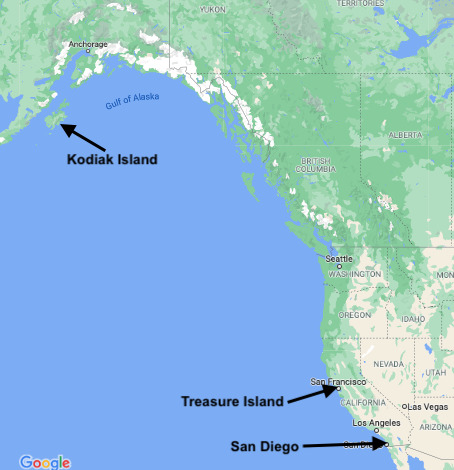 Gene graduated at the end of February 1964 as a full Seaman (E-3) because unlike most of the other recruits, he had completed two years of college. After graduation, he took two weeks leave in Illinois and then reported to Naval Station Treasure Island for Electronics Technician "A" school around the first of March. Life as a Seaman at Treasure Island was pretty good, although he did occasionally have to stand duty on weekends. One weekend he was assigned as the Battalion Runner, which meant he had to drive all around Treasure Island delivering messages to various commands. One of the messages he had to deliver was addressed to the Navy Brig. When the Duty Petty Officer handed him the letter to deliver, he told Gene to be sure he knew his general orders before delivering the letter because the brig was sure to ask Gene about them.
When Gene arrived at the brig, a brig Petty Officer brought him inside. In front of him were two lines on the floor—one blue and one red. Gene also saw two sailors, each holding up a five-inch shell with outstretched arms. Both were sweating profusely and struggling to hold the heavy shells at arms-length. The brig Petty Officer barked an order at Gene not to cross the blue line without permission, which Gene had no intention of doing anyway. The Petty Officer then asked Gene to recite the seven general orders, which he did. At that point, the situation relaxed and Gene asked the Petty Officer why the two sailors were holding the shells. The Petty Officer responded, "They didn't listen. You're dismissed." That was all Gene needed to hear and he quickly departed. He was glad to never step foot in a Navy brig again.
On another weekend in March 1964, Gene felt like his hair was getting a little shaggy, so he went to the base barber shop to get a haircut. Apparently, there were lots of other sailors who felt the same way because the waiting line for a haircut ran all the way out the barber shop's door. Gene dutifully went to the end of the line to wait his turn. While he was standing there, one of the two barbers reserved for cutting officers' hair (so officers wouldn't have to wait long to get haircuts) came out of the shop and walked up to Gene at the end of the line. He said he wasn't cutting any officer's hair just now and he could cut Gene's hair on the condition that Gene not say anything to anybody about it. Gene agreed and walked into the shop with the barber, taking his seat in the officer's chair.
After the barber started cutting Gene's hair, a Marine Sergeant Major "dressed to the nines" in his meticulous Marine uniform rushed into the shop and approached Gene's barber and the other barber reserved for cutting officers' hair (his chair was empty). "Sirs, the Admiral wishes to get his hair cut," the Sergeant Major announced. Gene was mortified. The one time he'd bent the rules and now he, a Seaman only a month out of boot camp, was going to be caught getting his hair cut in the officers' chair by an admiral. Before he could get out of the chair, a gray-haired older gentleman walked into the shop and approached him. "Hello, sailor," he said. "Where are you from?" Gene responded, "Ipava, Illinois, sir." The man answered, "We'll, I must admit I don't know where that is. What's your name?" Now standing, Gene responded, "Walker, sir. Eugene." "Well, I guess you don't know who I am," the man continued. Gene admitted he did not. The man replied, "Chester Nimitz". Gene could not believe it. He was actually speaking to Fleet Admiral Chester W. Nimitz, the legendary U.S. Admiral and architect of the U.S. Pacific Fleet's victorious naval campaign in World War II. Gene shook the Admiral's hand and then the Admiral got his hair cut in the other chair. This was an experience Gene would never forget—he had been at the right place at the right time. Admiral Nimitz would pass away two years later and be buried next to his wife at Golden Gate National Cemetery in San Bruno, California. The cemetery would later prove to be significant for Gene and his family, as well.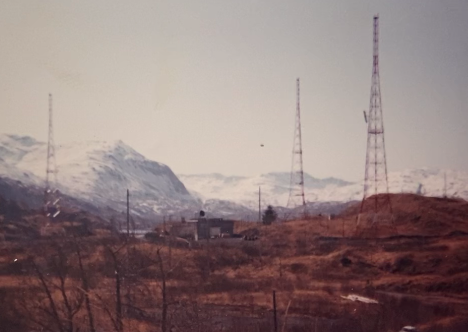 Gene completed Electronics Technician "A" school in approximately six months. He was now ready for his first assignment, which was the Buskin Lake Transmitter Site on Kodiak Island, Alaska. As soon as he received his orders, he had to check an atlas to see where Kodiak Island was. He took leave in Illinois, then boarded a plane at O'Hare Airport in Chicago and flew to Anchorage, Alaska, via Seattle-Tacoma International Airport. In Anchorage, he boarded a Navy Albatross seaplane for the final leg of the journey to Kodiak Island, located in the Gulf of Alaska 30 miles off Alaska's southern coast and 250 miles southwest of Anchorage.
Gene's tour of duty at the Buskin Lake Transmitter Site began in September 1964. The site was a major communications facility supporting the Navy's communications throughout the Pacific. As Gene's rate (the Navy term for a sailor's occupational specialty) was Electronics Technician Communications, the assignment was tailor-made for him. He worked on transmitter equipment, ran jumpers, did troubleshooting, repaired or replaced anything that broke, and used test equipment to make sure Navy communications in the Pacific flowed uninterrupted. This was a challenge because the equipment was old analog equipment, but also exciting because the Navy was beginning to move to more sophisticated electronics. The result was Gene gained valuable experience during his time on the island.
Given Buskin Lake's remote location, there was little to do outside of work. The weather was surprisingly mild and Gene found it similar in many respects to the temperatures he had grown accustomed to growing up in Central Illinois. In the summer, he was able to go on hikes with his friends into the surrounding countryside, which was largely untouched by civilization. However, they had to carry weapons with them to fend off any bears they might encounter. In fact, it was not uncommon to see bears on the installation rummaging through trash dumpsters in search of food. They also had a pool table and ping pong tables to pass the time, and the installation would show movies. The radio station at nearby Naval Air Station Kodiak added music to the entertainment mix.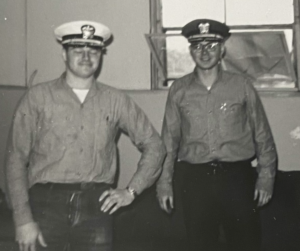 One thing the Buskin Lake Transmitter Site did have was outstanding food. The Buskin River was packed full of King Salmon, and Alaskan King Crab were also readily available. With those fresh catches at his disposal, the cook at the galley made sure the men ate well. So well, that when officers from Naval Air Station Kodiak visited the Buskin Lake facility, the lieutenant in charge always took them to the galley to eat. During one such visit while the officers were eating, Gene and two of his friends saw the officers' covers (the Navy term for hats) in the galley's outer area. They took turns trying them on and one of them took a picture. They were glad they didn't get caught as they were sure the lieutenant would have "had their asses."
Gene's one-year tour on Kodiak Island came to an end in September 1965. He requested to extend but it was disallowed because it was his turn for sea duty. He received orders to report to USS Chevalier (DD-805), a World War II era Gearing class destroyer currently in drydock at Hunters Point Naval Shipyard in San Francisco. Before reporting to his new ship, he again took leave in Illinois. Then, with all his possessions loaded into his green canvas sea bag, he flew from St. Louis to San Francisco and joined his ship at the end of September 1965.
Gene really enjoyed his time on USS Chevalier. Because he was an experienced Electronics Technician, he didn't have to work in the ship's galley like the other junior enlisted sailors did upon first reporting to the ship. Instead, he jumped right into working on the ship's communications gear, making sure the ship could communicate reliably with the rest of the fleet. He also helped work on the ship's radar antennas, not because of any special training he had, but because he'd told some of his new shipmates about his life growing up on his grandfather's farm. One day, Radarman Second Class Jim Lorenz approached him and said "I hear you used to work on barn roofs and aren't afraid of heights. When work needs to be done on the radar antennas on the ship's mast, I need someone to go with me and the other guys are scared." From then on, Gene climbed the ship's mast with Petty Officer Lorenz to work on the antennas. It was perilous work when the ship was at sea, especially when the ship rocked from side to side. When the ship rolled to port (left) and Gene looked down, all he could see was water. When the ship righted and he looked down, all he could see was the center of the ship. When the ship rolled to starboard (right) and he looked down, again all he saw was water. The work was not for the fainthearted.

On May 12, 1966, USS Chevalier departed San Diego for a deployment to the Western Pacific. On the way there, they stopped at Pearl Harbor, Hawaii, before making the long voyage to the Yokosuka, Japan, as part of the aircraft carrier USS Constellation (CV 64) task group. Throughout the six-month deployment with USS Constellation, USS Chevalier would often serve as "plane guard" for the giant aircraft carrier when it conducted flight operations. This meant USS Chevalier would take station near the carrier and be ready to rescue any aircrew in the event one of USS Constellation's aircraft made a water landing. USS Chevalier had a diver onboard who would jump into the water near the downed aircraft and attempt to rescue any survivors before the aircraft sank. Gene only remembers one occasion where a rescue was attempted but the pilot did not survive.
After a brief stay in Yokosuka from June 1-7, the Chevalier got underway again with the other ships in the Constellation's task group heading for Vietnam via Subic Bay in the Philippines. When the Chevalier arrived off the coast of South Vietnam, it detached from the task group and sailed up the Saigon River. Because Chevalier's draft was only fourteen feet, four inches, it could navigate in the river's shallow water. Once it sailed past Saigon, it provided fire support for the troops ashore by bombarding enemy targets. To ensure Chevalier's guns hit their targets, spotter planes radioed coordinates to the ship and the ship then blasted those areas with its six five-inch guns. The Chevalier wasn't the only asset being called upon to assist the troops in the vicinity. On one occasion during the ship's Saigon River mission, Gene watched as an AC-47 "Puff the Magic Dragon" gunship rained down machine gun fire, accented by thousands of tracer rounds, on the enemy ashore. During the period from June 15-21, USS Chevalier expended all its five-inch ammunition in support of allied forces on the ground.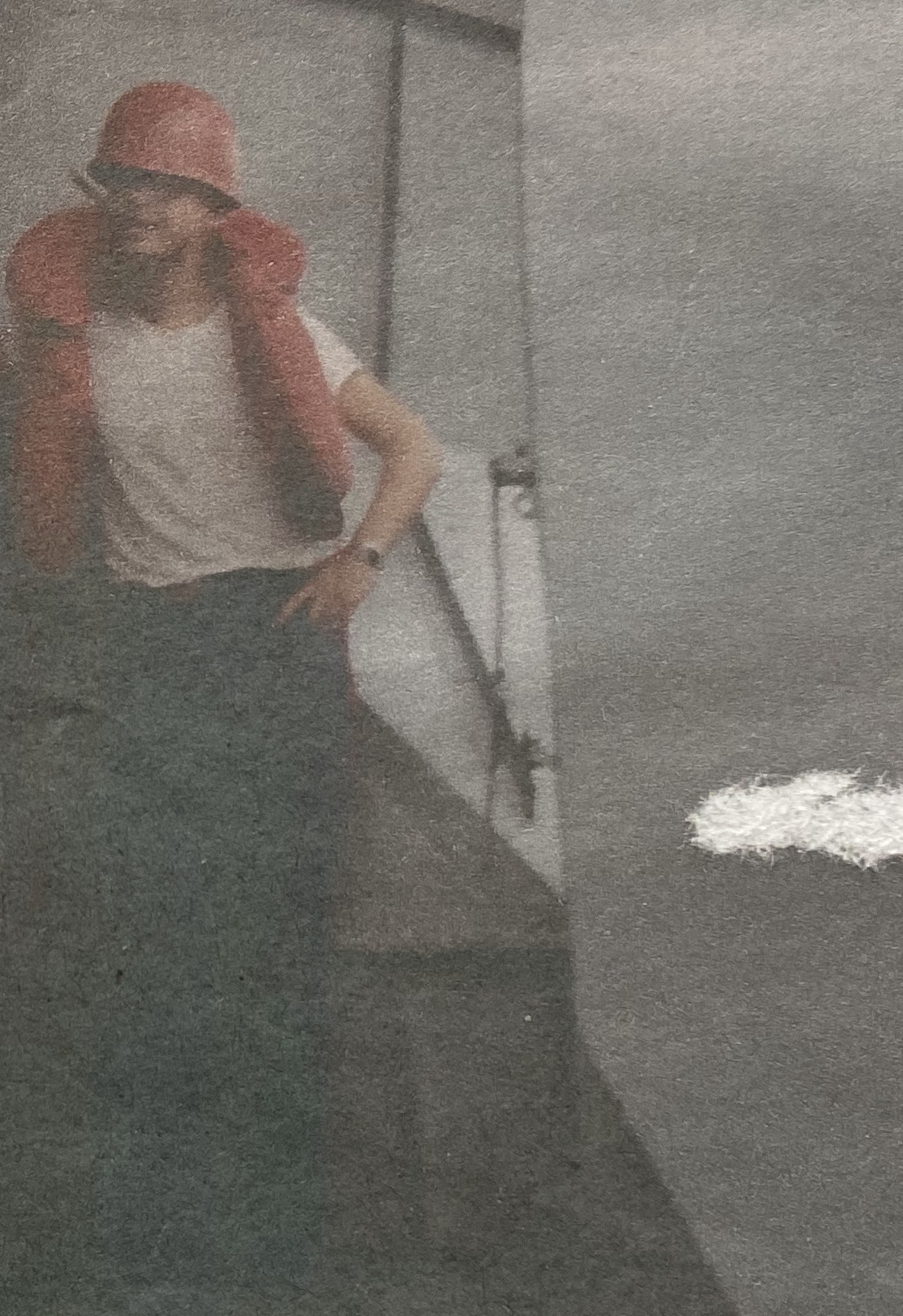 After its gunnery support mission, USS Chevalier rejoined USS Constellation and resumed plane guard duties. Gene worked on equipment, but also spent time on the bridge in case any of the communications equipment went down and needed a quick repair. When the ship needed to resupply, it would sail close alongside a supply ship. While maintaining a steady course and speed, the ship would refuel and resupply from hoses and lines connected between the two ships. The evolution was dangerous, so the crew was placed at a heightened state of readiness. Gene's replenishment position was amidships, where he could clearly see how well the replenishment was proceeding.
For one such replenishment, a new Lieutenant Junior Grade had the conn of USS Chevalier as she pulled alongside the resupply ship, USS Mars (AFS-1). Gene and the other crewmembers at his station thought the Chevalier was getting too close to the Mars until a First Class Boatswain's Mate couldn't take it any longer. He radioed to the bridge that they were so close he could reach out and touch the Mars from where he was standing. The Chevalier's captain intervened and a safe distance was restored between the two ships.
After its duty in Vietnam, USS Chevalier headed home, retracing the steps it took on the way over. One difference, though, was the ship stopped in Singapore, which meant the ship crossed into the southern hemisphere. To mark the occasion, the ship's crew held the traditional crossing the line ceremony, where sailors like Gene who had never done so before transitioned from uninitiated "pollywogs" to trusty "shellbacks". The raucous ceremony is usually memorialized by a certificate issued by the Court of King Neptune and becomes a cherished part of a sailor's memorabilia.
USS Chevalier returned to San Diego in October 1966. Gene would go out with the ship one more time on a trip to Acapulco, Mexico, which he thoroughly enjoyed. The ship then went into a maintenance and workup period as it prepared to deploy again to the Western Pacific in 1967. However, because Gene's enlistment would expire while the ship was deployed, he transferred in May 1967 to the USS Hamner (DD 718), another Gearing Class destroyer homeported in San Diego.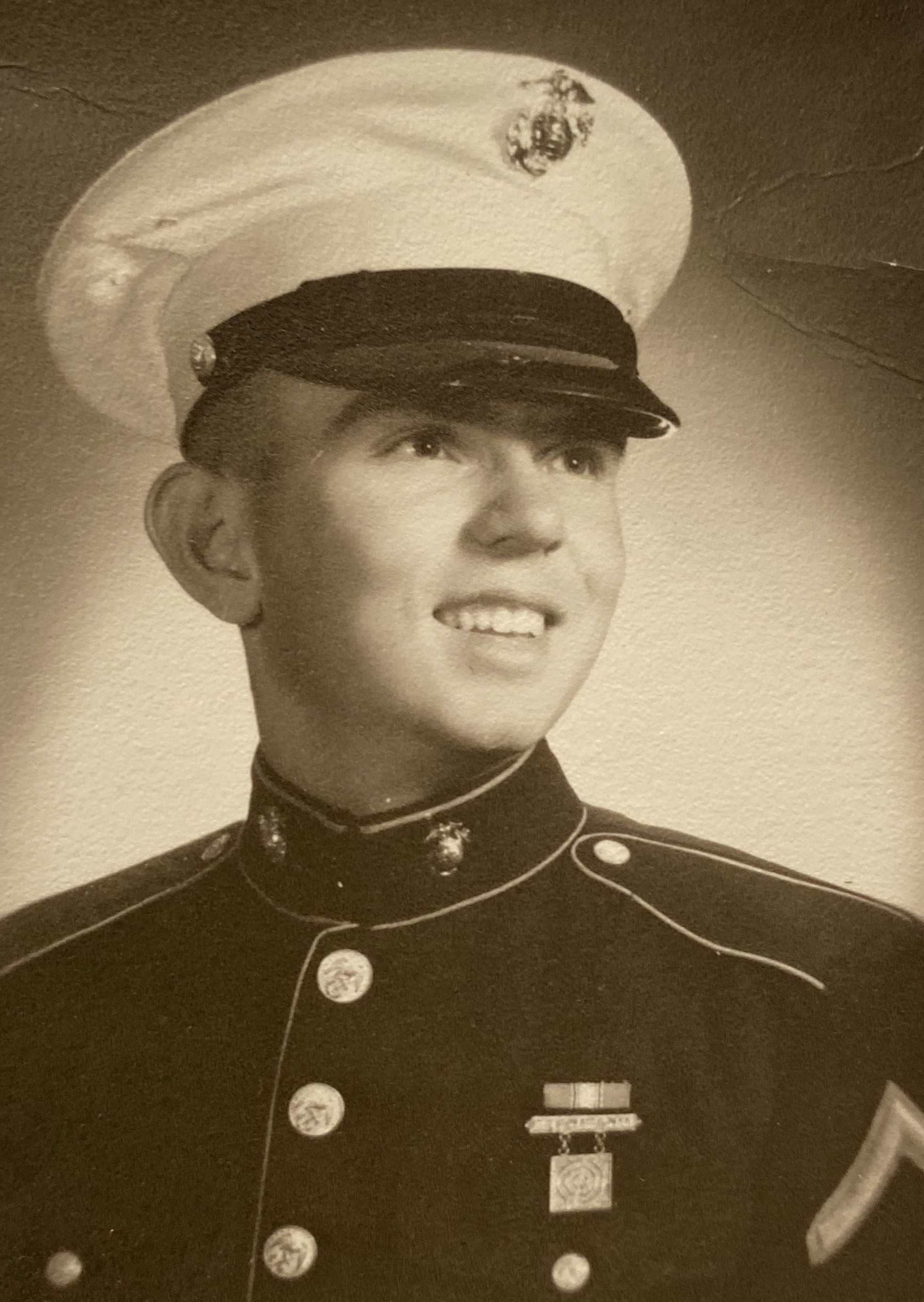 On July 2, 1967, Gene's mother called him with some very bad news. His brother, Medford Adarine Chrysler, had been killed in Vietnam. His mother asked him to attend the funeral, which was to be at the Golden Gate National Cemetery, the same place Fleet Admiral Chester Nimitz was buried. She also asked him to go to the morgue to identify the body, which Gene was able to do based upon a tattoo Medford had on his right forearm. Medford, a Marine who died fighting the North Vietnamese in Quang Tri Province near the demilitarized zone between North and South Vietnam, was buried with full military honors. This was the second funeral Gene attended in his dress Navy uniform.
Gene remained onboard USS Hamner until he accepted an early discharge in August 1967 to attend Southern Illinois University. At the time of his discharge, he was a Petty Officer Third Class. He attended Southern Illinois University as planned, but it wasn't what he was looking for, so he returned to Ipava to work at his grandfather's gas station. In 1972, he was ready to move on from that, too, and applied for a job with AT&T in Peoria, Illinois. Although the clerk at the AT&T office told him they weren't hiring, he submitted his application anyway. When he returned home, there was a message waiting for him from a Mrs. Dahl at AT&T.
Gene returned the call and Mrs. Dahl said she had seen his application. She asked him why he thought he would be a good fit for AT&T. When he told her he had been an Electronics Technician in the Navy specializing in communications, she asked him if he could start in two weeks. So began Gene's thirty-four-year career with AT&T. His job took him from Illinois to California and back again, and he loved the work. He retired from AT&T in 2005.
Gene now lives in Springfield, Illinois, where he is active in VFW Post 755. Since joining the Post, he's reached out to veterans in need by helping coordinate assistance through the Illinois Department of Veterans Affairs. When veterans pass away, he serves on the burial detail at Camp Butler National Cemetery and has performed countless burial ceremonies honoring veterans as they are laid to their final rest. He also is a Civil War reenactor, playing the role of Major John Aaron Rawlins, General Ulysses S. Grant's Chief of Staff.
Voices to Veterans is proud to salute Electronics Technician Communications Third Class Eugene Walker for his dedicated service in the U.S. Navy. His service took him to two extremes, from a remote island off the coast of Alaska to the war in Southeast Asia. Wherever he was, he served with distinction, ably representing the United States. We thank him for all he has done for our country and wish him fair winds and following seas.
If you enjoyed Gene's story, please sign up for the Voices to Veterans Spotlight monthly newsletter by clicking here. Once each month, you'll receive a new written veteran's story and a new podcast directly in your mailbox. Best of all, it's free and you can unsubscribe at any time.