From my earliest days in the Navy, I learned that you don't render a salute unless you are in uniform and covered (other services, please excuse my Navy focus). Covered means you are wearing your uniform hat. Since in the Navy we don't wear our covers indoors (with a few limited exceptions), that means you don't salute indoors.
When I was a brand-new Ensign in 1987, I attended Officer Indoctrination School (OIS) in Newport, Rhode Island. I made a good friend there – Mark Malakooti – and we would practice saluting, sometimes a little irreverently, every time we saw each other, popping a crisp salute no matter what we were wearing. One evening, we were approaching each other down the hallway, and I could see Mark getting ready to render a salute even though he was wearing his physical training (PT) gear, which consisted of a yellow t-shirt and blue shorts. What he couldn't see was the OIS Commanding Officer walking right behind him. When Mark got close, he stopped, came to attention, and rendered a particularly fine salute. Not exactly sure what to do, I returned an equally crisp salute. The Commanding Officer immediately interjected, but seemed satisfied with the explanation that we were practicing. She did tell us not to practice that way any more – and that was the last time I rendered a salute when I was not in uniform and properly covered.
It's now 30 years later, I'm retired, and I don't wear a uniform, let alone a cover. So what am I supposed to do when the national anthem plays? I've heard it's okay to salute, but I wasn't sure under what circumstances saluting was permitted. As a result, I've always just stood at attention, like I would if I were out running on base in the morning when the bugle sounds colors. Well, I've finally taken the time to look up the answer.
Proper conduct during the national anthem is actually controlled by a federal statute: Title 36 of the U.S. Code, § 301. It states that when the national anthem is being played AND a flag is displayed: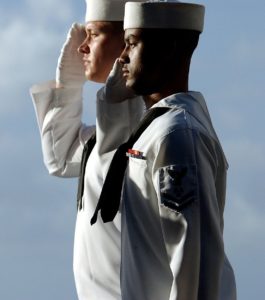 A. Individuals in uniform should give the military salute at the first note of the anthem and maintain that position until the last note;
B. Members of the Armed Forces and veterans who are present but not in uniform may render the military salute in the manner provided for individuals in uniform [emphasis added]; and,
C. All other persons present should face the flag and stand at attention with their right hand over the heart, and men not in uniform, if applicable, should remove their headdress with their right hand and hold it at the left shoulder, the hand being over the heart.
If no flag is displayed when the national anthem is being played, "all present should face toward the music and act in the same manner they would if the flag were displayed."
So now I know – I have the option of saluting the flag or standing at attention with my hand over my heart. Given how engrained my Navy training is, I will likely choose the attention option from here on out. But for the veterans out there like me who didn't know what their options were, I hope this is helpful.