When people think of Navy lawyers, the image of courtrooms and court-martials comes to mind, conjured up from movies like The Caine Mutiny and A Few Good Men. Although those images are accurate as far as they go, they paint but a small part of the picture. No career illustrates that better than that of Commander Tom Jones, Judge Advocate General's Corps, U.S. Navy (Retired). Tom left the courtroom behind early in his career to serve with the Navy SEALs in Iraq, charting the course for all future Navy attorneys embedded with special operations units. Where others might see roadblocks, Tom saw opportunities. Throughout his distinguished twenty-year Navy career, he never avoided challenges – he embraced them. This is his story.
To say Tom's childhood was unique would be a gross understatement. He was born in Baltimore in 1975 to a mother Tom describes as the quintessential hippy. His father was out of the picture by the time Tom was four or five, so his mother bought a school bus/camper to live in and they hit the road. As a young boy, Tom and his mother spent time in Newfoundland, Florida, West Virginia, Colorado, Washington, California, and Arizona, raising money any way they could. Tom remembers at one point his mother sold turquoise at swap sales. In California, they picked crops as migrant farmworkers. In Bisbee Arizona – an old copper mining town – Tom's mother ran a "flop house", providing a place for the growing Bisbee hippy population to stay cheaply, although Tom is not sure his mother ever charged anyone to stay there as he never saw money exchange hands.
Tom started first grade in Bisbee but didn't like it, so his mother decided to home school him using what Tom readily describes as a non-standard curriculum. When he was about seven, he remembers his mother going to court and the judge giving her two options: close the flop house and leave Bisbee within twenty-four hours or go to jail. Not seeing it as a choice at all, Tom's mother loaded Tom and his younger sister into the bus and drove back to Baltimore. Eventually Tom would have two more younger siblings.
Tom's mother had little money, so she moved the family to the only place in Baltimore she could afford—a rough neighborhood in the inner city. As the schools in the neighborhood were bad, Tom went to live with his grandparents on weekdays in a blue-collar area where the schools were better. Tom loved his grandparents and describes them as the rock and foundation upon which he was able to build his future life. The time he spent with them growing up allowed him to figure out who he was and who he wanted to be. He describes them as having Depression era values and progressive. His grandfather was a union man, and he fought to integrate the union's locker room. Tom is very proud of his grandfather for that.
In 1989, Tom began high school at Baltimore City College, a college preparatory school and the third-oldest active public high school in the United States. He enjoyed school, mostly because he loved playing football, so it came as a shock when his mother decided to move the family to Alaska at the end of his freshman year. Tom did not want to go, but they reached a compromise. He would go with the family over the summer to see how he liked it. If he did not, he could return to Baltimore at the end of the summer for his sophomore year at Baltimore City College.
Although Tom found Alaska beautiful, it was not for him. Living in inner-city Baltimore had made him a "city boy" and he missed his grandparents, his friends, and the life he had grown accustomed to. He tried working in a cannery but didn't fit in because many of the employees did drugs. Still, he remained throughout the summer to fulfill his part of the bargain, then he returned to Baltimore to start school and play football. Throughout his high school years, he visited his mother and three younger siblings in Alaska over the holidays and during summer breaks, but otherwise Baltimore was his home.
Tom's focus in high school was football, which was understandable given he was a big kid at 6'3" and his team was ranked #1 in the state of Maryland and #16 nationally. During his sophomore and junior years, he did just enough studying to make sure he could take the field with the team every week. Then in his senior year, things changed. By that time, he had finished all the required courses and could now take electives, so he took courses he enjoyed and did well. He also scored well on his college entrance exams and parlayed his newfound academic success and football prowess into a scholarship to attend Frostburg State University, an NCAA Division Two school in western Maryland.
Tom began at Frostburg State after graduating from Baltimore City College in 1993. In addition to playing tight end and defensive end on the football team, he studied one semester abroad at Mary Immaculate College in Limerick, Ireland. Raised by his grandparents as a good Irish Catholic, he loved meeting the Irish people and learning about their culture and music, even taking Irish step-dancing lessons. He also learned to play rugby, a sport he would champion as a player and coach for the rest of his life. Finally, the experience awakened a wanderlust he had apparently inherited from his mother, and he backpacked throughout Europe whenever he had the chance, meeting people and exploring cultures as he went.
During his junior year, Tom applied for a unique program at the University of Baltimore School of Law. The program allowed him to complete his senior year of college and his first year of law school simultaneously. He was accepted into the program and began at the University of Baltimore School of Law in the fall of 1996, earning his bachelor's degree in political science and justice studies from Frostburg State in the spring of 1997.
As Tom looked to the future, he felt he needed to do some sort of public service, and the military came to mind. Two major influences were his grandfather, who served during World War II in the 283rd Combat Engineers as part of General George S. Patton's Third Army, and his uncle, who served in the Army during the Vietnam War era. Tom thought he should serve, too, while he was young enough to do so. His plan was to serve three years and then return to civilian life to practice law.
Since sports and physical fitness were such big parts of his life, Tom decided to apply to become a Marine "judge advocate", the term for an attorney in the military. All was going well until he reported to the Military Entrance Processing Station (MEPS) in Baltimore for his physical. There, doctors discovered an anomaly in his EKG (electrocardiogram), so the Marines delayed his commissioning until the anomaly could be resolved. Tom saw a Navy doctor who attributed it to Tom running a lot in preparation for what he expected to be a difficult officer training program and cleared Tom to join the Marines. However, when Tom followed-up with the Marine recruiter, he told Tom he didn't have the doctor's paperwork, so his commissioning was still on hold.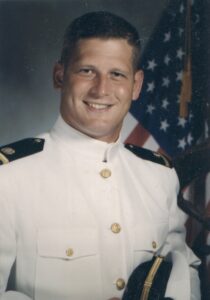 Frustrated with the lack of progress, Tom contacted a Navy recruiter. The Navy recruiter pulled out a map and showed Tom Navy bases around the world, which really appealed to Tom's desire for travel. Then he pointed to the Marine Corps bases at Camp Lejeune, North Carolina, and Camp Pendleton, California, strategically leaving out all other Marine Corps installations and suggesting the Navy was a better alternative. Tom agreed and accepted a commission as an Ensign (O-1) in the Navy Reserve. Two days later, the Marine recruiter called Tom and said the Marines had cleared him, but it was too late – Tom was already in the Navy. Given his hippy upbringing, Tom believes this was all for the best because the Marine Corps culture would have been too structured for him, and he might have only done a single tour in the Marines instead of a full career in the Navy.
Over the summer of 1998 between his junior and senior years of law school, Tom attended Officer Indoctrination School (OIS) as part of Class 98050 at Naval Station Newport, Rhode Island. There he learned the basics of being an officer along with other professionals like doctors, dentists, and nurses, and participated in Navy physical training. Since he had prepared for Marine Corps training and was already in great shape, the physical training at OIS proved a breeze. Even better was being in Newport in the summer because once Tom and the other new officers were given liberty off the installation, they got to enjoy five-dollar lobsters, clam bakes, and the beautiful New England weather. He also enjoyed the discipline and regimen his training provided – the polar opposite of what he grew up with.
Tom returned to the University of Baltimore School of Law in the fall of 1998 for his final year and graduated in the spring of 1999. Over the summer, he studied for the Maryland bar exam and worked for a law firm in London assisting with tobacco related litigation. Although he loved living in London, he hated the work. The experience taught him he did not want to work for a big law firm and reinforced his decision to become a Navy lawyer.
After passing the Maryland bar exam, Tom reported for active duty in October 1999 at the Naval Justice School, also located in Newport, Rhode Island. Instructors at the Justice School taught Tom how to prosecute and defend sailors at courts-martial, how to advise commanders on military justice matters, and how to conduct and document investigations into various types of military incidents. After having worked seventy hours a week at the London law firm over the summer, Tom used the twelve-week course of study as a time to decompress. The result was he made a lot of lasting friendships and again enjoyed Newport, but was ready to move on when graduation came in December 1999.
Now a Lieutenant Junior Grade (O-2), Tom reported to his first permanent duty station, Trial Service Office Southeast Detachment Jacksonville, Florida, in December 1999. He was by far the most junior attorney, so he found it difficult to break out and get the prosecution experience he needed. He did sit as the second-chair prosecutor in a murder trial, but decided it was in his best interests to transfer as soon as the opportunity arose. That happened in 2001, when he volunteered to take an assignment as a Lieutenant (O-3) at Naval Legal Service Office Pacific onboard Fleet Activities Yokosuka, Japan.
Tom reported for duty at Naval Legal Service Office Pacific in the summer of 2001. There he provided legal assistance to sailors and their families stationed in Yokosuka, served as the Tax Officer and Legal Assistance Division Officer, and finally as the Senior Defense Counsel defending accused sailors at administrative proceedings and in courts-martial. He also did two temporary additional duty (TAD) periods at sea on the USS Blue Ridge (LCC 19), the command ship for the U.S. Seventh Fleet. While onboard, Tom assisted the ship with military justice matters, visited Hong Kong during a port call, and worked with two more senior judge advocates handling operational/international law issues. Off-duty, he built core friendships and used his location in Japan as a jumping off point for travel around the Far East.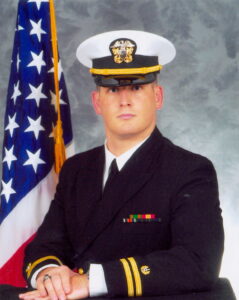 When it came time to transfer in the summer of 2004, Tom's commanding officer asked him what he was interested in doing. Tom had heard the Navy SEALs at the Naval Special Warfare Center wanted to add a judge advocate (JAG) to their staff and Tom said he would like to give that a try. He was selected for the position and, with surfboard in hand, reported to the Naval Amphibious Base on Coronado Island in San Diego, California, to begin his new assignment with the SEALs.
The SEALs had an immediate issue they needed Tom to help solve. In both the Afghanistan war, which had been ongoing since October 2001, and the Iraq war, which had been ongoing since March 2003, the SEALs were detaining individuals and turning them over to local authorities, only to have them released and back on the battlefield within a couple of months. SEAL leadership believed if Tom deployed to Iraq with a SEAL team, he could work with Iraqi legal authorities to help them hold detainees accountable for their actions supporting Iraqi insurgents.
Before Tom could deploy with the SEALs, he had to undergo intense training. Not only did he complete a mini-BUDS (Basic Underwater Demolition/SEAL) course and participate in the SEAL's physical fitness training, but he also completed Survival, Evasion, Resistance and Escape (SERE) school, learned to speak basic Arabic, earned his Naval Parachutist Warfare Pin, attended interrogator school, and took an evasive driving course. By the time he was finished, he was in the best physical condition of his life, and he'd earned the trust and respect of the SEALs he worked with because they could see he understood and valued their culture. He wasn't trying to become a SEAL – his Executive Officer asked if he wanted to put in a package to convert to SEAL and he said no. But he did want to put in the effort to build credibility so the SEALs would respect him and his advice once deployed.
Tom deployed to Iraq twice in support of Operation Iraqi Freedom with SEAL Team SEVEN, once from October 2004 through February 2005 and again from April 2005 until December 2005. Since he was among the first JAGs to deploy in the field with SEAL teams, he had no manual to go by or instructions to follow. He had to develop everything himself and was given free rein to do so. He initially traveled around Iraq in stripped down HUMVEES with only a rifle to defend himself, but eventually the team received the up-armored HUMVEES that were more effective in defending against the Improvised Explosive Devices (IEDs) insurgents placed along the roadways. This was a good thing, because in 2005, a HUMVEE Tom was riding in struck an IED. Tom was sure he would have been killed had the vehicle not had the extra armor built into its floor. Still, Tom and others in the vehicle were shaken up. Although Tom was checked out by a Navy corpsman and cleared for duty, he is pretty sure he sustained a concussion and still suffers from hearing loss. At the time, though, he didn't want to admit he'd been injured.
One issue Tom noticed almost immediately was that when members of the SEAL Team went out on a mission to capture insurgents, they often rolled up every fighting age male they found, not just the four or five bad guys they originally targeted. This made evidence collection difficult and often did more harm than good, turning non-insurgents and their families against U.S. operations. To help solve the problem, Tom started to deploy on the capture missions with the SEALs. After the SEALs secured the area and the insurgents, Tom worked with them to identify and detain only the original targets. He then gathered the evidence they needed to provide to Iraqi authorities, including taking pictures of the scene to document what they found. This resulted in fewer detentions, better support for Iraqi prosecutions, and less animosity among Iraqi citizens. Tom's efforts also further enhanced his credibility with the SEALs because they could see he was helping them accomplish their mission.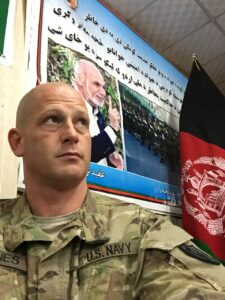 To solve the detainee accountability issue more broadly, Tom worked with authorities in the Iraqi legal system, which by 2005 was beginning to function again. He learned what their standard of evidence was and what documentation they needed to hold the insurgents accountable in Iraqi courts. For example, he learned for a confession to be admissible, it needed the detainee's thumbprint on the document or it would not be considered. The results were incredible. Before Tom began working with the Iraqi prosecutors, there was a fifteen percent conviction rate. Once the SEAL teams started collecting and providing the right types of evidence and documentation to Iraqi prosecutors, the conviction rate rose to eighty-five percent.
By the time Tom departed Iraq in December 2005, he had set the standard for embedding a JAG with the Navy SEALs on operational missions. For his efforts, he received the Bronze Star and the Combat Action Ribbon, two awards he is immensely proud of because they were earned with SEAL teams on deployments. He returned to his position as the Staff Judge Advocate for Naval Special Warfare Center in San Diego, where he served until May 2007.
Given his success with the SEALs and realizing he would likely never have another tour that would rival his time in Iraq, Tom considered returning to civilian life. Two things changed his mind. First, he promoted to Lieutenant Commander (O-4). Second, he received one-year orders to serve on the staff of U.S. Naval Forces Central Command (NAVCENT)/FIFTH Fleet in Manama, Bahrain, the headquarters for U.S. naval operations in the Persian Gulf, Arabian Gulf, Red Sea, Gulf of Oman, and parts of the Indian Ocean.
Tom reported to NAVCENT in May 2007, where he was embedded with the Future Operations planning cell. There he provided legal advice to planners devising naval operations throughout the Middle East. With the Navy engaged in wars in both Iraq and Afghanistan, as well as interdicting the movement of terrorists in the Arabian Gulf and pirates off the coast of Somalia, Tom's advice addressed international law issues, the law of war, and U.S. rules of engagement. Having just come from his assignment with the SEALs, he also brought a true operational perspective to the position. Throughout his tour, he worked hard and played hard, making many lasting friendships with his shipmates in Bahrain.
Tom's most memorable assignment in Bahrain centered around a tragic accident involving a Navy contracted cargo ship, the Global Patriot. As the ship waited in Egyptian territorial waters to transit the Suez Canal, a small boat approached the ship at night. When the small boat failed to turn away after being warned to do so, the security detail on the Global Patriot fired warning shots to deter the small boat from approaching further. One of the shots apparently ricocheted off the water, striking and killing a man on the small boat. The accident triggered outrage in Egypt and became a major international incident.
To address the situation, the Navy initiated an investigation. Tom was assigned as the lawyer for the investigating team, which proceeded to Egypt on a factfinding mission. The mission was exceedingly difficult because the issue had become politicized. Senior officials with the Egyptian Ministry of Defense held a meeting with the investigating team and invited the media, using it as an opportunity to publicly excoriate the United States for the incident. During a break in the meeting, Tom and another member of the team went to the men's room, which only had a single toilet surrounded by a stall. Tom waited for his turn to use the facility and encouraged the other team member to hurry up. When the other team member announced he couldn't find a way to flush the toilet, Tom told him not to worry about it as he'd been drinking water all morning and really had to go. Finally, Tom got his turn and when it came time to flush the toilet, he too announced he couldn't find a way to flush the now urine-filled commode. Then he spotted a pedal on the floor next to the toilet and stepped on it. Suddenly, the bidet shot a high-powered urine-filled stream of water at him and he had no way to turn it off. Even worse, he'd latched the stall door closed behind him and had to unlock it before he could escape, so he was soaked in urine when he finally exited the stall, just in time to see an Egyptian staff member poke his head inside the men's room and disappear an instant later.
Tom and the other team member tried to dry Tom off, but it was no use as his shirt, tie, and suit were soaked. He had no choice but to go back to the meeting as he was, wreaking of urine. When he entered the room, he noticed subtle smiles on the Egyptian delegation's faces. He was sure the staff member who poked his head into the men's room had told everyone what he'd seen. Much to his surprise, though, the incident changed the tone of the meeting. The senior Egyptian Ministry of Defense official leading the meeting told the media to stop recording and began speaking with Tom. He said, "Mr. Jones, I understand you speak a little Arabic." When Tom replied he did, the official asked what Tom knew about Egypt. Tom told him he of course knew about Egypt's ancient civilization and the pyramids and was really looking forward to trying Egyptian food. Then Tom added, "and I just learned this morning that Egyptian toilets are very dangerous." The Egyptian official and the rest of the Egyptian delegation broke out in laughter—the ice was broken. The official allowed the investigation team to proceed with its investigation, giving the team access to important information. Tom was glad he was able to play a key part in the incident's resolution, although it was not exactly the role he initially envisioned.
After completing his one-year tour in Bahrain, Tom considered returning to civilian life, but again the Navy came through. Tom was assigned in June 2008 as the Deputy Staff Judge Advocate for the U.S. Naval Academy in Annapolis, Maryland, just a short drive from his aging grandparents in Baltimore. He loved his time at the Academy, where he not only provided legal advice in support of the Academy's mission of educating the Navy's next generation of leaders, but he also taught a class in the law for the midshipmen and coached the Academy's rugby team. Most important, he met his future wife, Erin Bailey, at an Army v. Navy football game. Although Erin was a civilian when they met, she had previously served on active duty as a Navy Lieutenant, initially as a Surface Warfare Officer and later as a Public Affairs Officer, and was a proud graduate of the Naval Academy Class of 2000. After dating for a couple of years, Tom proposed to Erin at the Zimmerman Gazebo on the Naval Academy grounds. They were married in 2012 on a boat in Baltimore's Inner Harbor.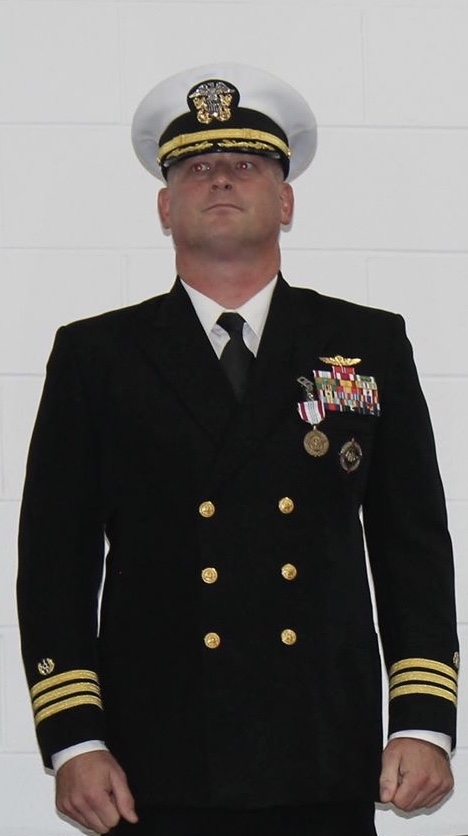 Tom promoted to Commander (O-5) while still at the Academy. When it came time to transfer in 2011, he asked for a job in the Washington DC area so he could continue to be near his grandparents. He felt very strongly about this as they had been there for him when he needed them most, so now he wanted to be there for them as their health declined. He got what he asked for, but the job itself did not seem ideal since Tom was more of an international law attorney than a trial attorney. He was assigned as a prosecutor in the Office of the Chief Prosecutor for the Military Commissions, which was responsible for trying the detainees in Guantanamo Bay for war crimes. The Military Commissions' main office was in Tyson's Corner, Virginia, so the location was perfect. But the cases being worked moved at a snail's pace and they faced legal hurdle after legal hurdle, so people assigned as prosecutors or defense counsel for the Military Commissions often grew frustrated. As with so many things in Tom's life, that did not turn out to be the case for him – he loved his Military Commissions assignment.
First and foremost, the assignment gave him the opportunity to work with a brilliant Army attorney who served as the Chief Prosecutor for the Commissions, Brigadier General Mark Martins. General Martins was tough but fair, always expecting the most out of everyone who worked for him. He put Tom in charge of the Future Dispositions Cell, which meant Tom was responsible for putting together the evidentiary packages for possible future prosecutions. To carry out his responsibilities, Tom worked with a team of FBI agents and traveled to Iraq and Afghanistan to interview witnesses and collect evidence. He also traveled to Yemen to depose witnesses, with the airline losing his luggage along the way. When he finally arrived at the U.S. Embassy in Yemen, he had to brief the Ambassador in the clothes he'd been wearing during the three days it took him to get there. By that time, the security situation had grown so precarious that instead of conducting the interviews in Yemen, Tom devised a plan to have the witnesses flown onto a U.S. warship off the coast, where they could be interviewed safely. Tom's luggage eventually arrived at the Embassy after he left, although it was subsequently blown up during a rebel rocket attack on the Embassy's motor pool.
Tom also got to work on some interesting cases while assigned to the Commissions. Not only did he work on the USS Cole (DDG-67) bombing case and the 9-11 terrorist attack cases, but he also played a major role in assembling the case against Irek Hamidullin, a Russian national fighting together with the Taliban. Although the Military Commissions did not try Hamidullin, the U.S. Justice Department did, using evidence developed by Tom's team through partnership with the FBI. In 2015, the Federal District Court for the Northern District of Virginia sentenced Hamidullin to life in prison plus thirty years for conspiring to attack U.S. and Afghan soldiers and conspiring to use weapons of mass destruction.
After Tom's assignment with the Military Commissions, he transferred to the Pentagon to work in the International Law Division of the Office of the Judge Advocate General. Within the International Law Division, which is known as "Code 10", Tom was assigned as the head of the Law of the Sea branch, which was an area he had little previous experience in. Still, he got to work many interesting issues, including putting together testimony for Navy leaders to use with Congress to obtain funding for additional icebreakers to help the Navy catch up with Russian efforts in the thawing Arctic Ocean. He also worked on issues involving China's buildup of artificial islands in the South China Sea.
Tom stayed at Code 10 through 2016, when he transferred to a dream job in Stuttgart, Germany. There he served as the Deputy Staff Judge Advocate for the U.S. European Command (EUCOM). As the Deputy, Tom managed the Staff Judge Advocate's Office, which was time consuming but a pleasure to do because it was staffed with a group of well-seasoned attorneys. Tom even served for five months as the acting Staff Judge Advocate, personally advising EUCOM's four-star commander, when the Staff Judge Advocate transferred to the Joint Staff in Washington DC after promoting to admiral.
Tom's EUCOM assignment gave him the opportunity to work with many U.S. allies, often providing training on operational law issues and working closely with U.S. partners in Eastern Europe. In fact, during his assignment, Tom traveled to every country in Europe except Belarus. Even better, Tom's wife, Erin, secured a position as the Deputy Public Affairs Officer, so they both enjoyed their European assignments while working together.
As Tom's tour at EUCOM drew to a close, he had to make a difficult decision. Erin's father was having health issues and needed Erin's and Tom's help managing the family's ranch in western Oklahoma. Knowing the importance of family, Tom answered the call and retired in December 2019 after completing twenty years on active duty. Erin left her public affairs position, as well, and in March 2020, the two moved to Gate Oklahoma, where they remain to this day.
As if helping Erin manage her father's 10,000+ acre cattle ranch wasn't enough, Tom also serves as the District Attorney for two local counties, splitting his time each week between the two, and as a publicly elected Director of the Beaver County Conservation District. These are yet additional examples of the public service focus Tom has brought to everything he has done in his life. No matter how busy he was, he always found time to help others, including volunteering with community neighborhood associations, the Special Olympics, and Big Brothers; coaching the All-Navy Rugby Team from 2000-2019; and serving as a mentor for inner city youth.
Voices to Veterans is proud to salute Commander Tom Jones, Judge Advocate General's Corps, U.S. Navy (Retired), for his distinguished twenty-year career in the Navy. Whether our nation was at war or peace, Tom willingly went wherever he was needed most, often finding himself in harm's way. In both his military and civilian capacities, he's been an outstanding example of public service and dedication to family. We thank Tom for all he has accomplished and wish him fair winds and following seas.
If you enjoyed Tom's story, please sign up for the Voices to Veterans Spotlight monthly newsletter by clicking here. Once each month, you'll receive a new written veteran's story and a new podcast directly in your mailbox. Best of all, it's free and you can unsubscribe at any time.