I am often amazed at how humble veterans are when they describe their experiences heading off to war. I cannot imagine the emotions, the patriotism, the fear, and the camaraderie that must have pulsed through their veins as they left everything familiar behind to board a ship or plane bound for the ultimate unknown. That describes Staff Sergeant Sam High to a tee—a citizen soldier who joined the Army Reserve because he saw a storm brewing in Southeast Asia and wanted to do his part. When the call came, he did his duty with dignity and honor. This is his story.
Sam was born on May 4, 1944, in Lonoke County, Arkansas. His father was a sharecropper, but he gave up farming and moved his family to Chicago where he worked in a bicycle factory. By 1957 he had paid off his debts, so he moved the family back to Arkansas when Sam was in the eighth grade. Sam went on to graduate from North Little Rock High School in 1962 and entered the working world. At one point he worked at a lumber company where his dad was his boss, but his father told him he needed to find a better job. Heeding his father's advice, Sam took a position as a file clerk at the Veterans Administration (VA) Regional Benefits Office in Little Rock, beginning what would turn out to be a 38-year career with the VA.
Two years before starting with the VA, Sam joined the Army Reserve because he saw things heating up in Vietnam and he felt like he needed to do something. He did his Basic Training at Fort Polk, Louisiana, known as "Fort Puke" among the soldiers training there. Sam hadn't really been away from home before boot camp, so it was initially intimidating. He called everyone "sir" no matter what rank they were, but also notes he was in the best shape of his life. After boot camp he got two weeks off, then he returned to Fort Polk for Advanced Individual Training (AIT) where he learned to be a company clerk. All told, his boot camp and AIT lasted about eighteen weeks (nine weeks each).
After completing his training, Sam returned to Arkansas to integrate into his Reserve unit. Following Reserve requirements, he drilled one weekend each month and two weeks each year at Camp Joseph T. Robinson, a huge military base in North Little Rock, Arkansas, as well as at Fort Chaffee, also in Arkansas. His unit was initially an artillery unit, but in 1966 it reorganized to become Headquarters Company, 336th Ordnance Battalion. The newly reorganized unit drilled at the Finkbeiner Armory at Little Rock Airport. Throughout this time, Sam continued to work with the VA, which was very supportive of his Army Reserve service.
In April of 1968, Sam's mother called him at work. She was crying and told him his unit was being called up for active duty. This was just after the 1968 Tet Offensive in Vietnam, so both Sam and his parents knew what being called up meant – he was likely going to Vietnam. Sam called his unit to get more information, but even the unit hadn't received formal notification yet. Sam's view was the Army had trained him with a rifle, so he always knew there might come a time when they would call him and ask him to use it. He'd also heard rumors that there was a chance the unit would go to Japan, but Sam figured if he was going to get called up and shipped overseas, he'd rather it be to Vietnam so he could do his part.
Sam was single, so it was relatively easy for him to deploy on short notice. Still, his parents were getting older and had some health issues, tempering the excitement somewhat. Some of the other members of the unit had wives and children, so it was tougher for them to prepare. Regardless, they were officially called to active duty on May 13, 1968. Then, in June 1968, after filling out mounds of paperwork associated with their deployment, approximately 100 men from Headquarters Company, 336th Ordnance Battalion, marched with their unloaded M14 rifles from the Finkbeiner Armory to the commercial plane that would carry them to Fort Carson, Colorado.
At Fort Carson, Sam and his unit trained for their upcoming deployment. They traded in their M14s for M16s, attended classroom training about their mission and how to execute it, spent time in the field, and participated in escape and evasion training in the event they were captured. By late September 1968 they were ready, so Sam and the rest of Headquarters Company departed before daylight in an Air Force C-141 Starlifter for their flight to the Republic of South Vietnam.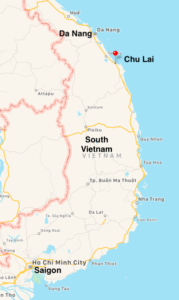 The Company arrived at the massive U.S. air base in Da Nang on September 26, 1968. Their initial assignment was actually in Da Nang, relatively close to the South China Sea, although some soldiers were assigned further up the coast in Quang Tri Province. Sam remained in Da Nang and helped the unit build its "hooches" (living quarters made from 2X4s and plywood with sandbags on the roof) and a nearby bunker that could provide cover from incoming mortars and rocket fire for about fifty soldiers. Sam was a Specialist 5 at the time, and his primary responsibilities involved the record-keeping side of ordnance. He worked in a three-person section from noon to midnight, keeping inventories of the ordnance units had and dealing with emergency calls for ammunition. When an emergency call came in, Sam rode to the Da Nang airport in a jeep with the necessary paperwork. Although he generally felt safe on these runs, they always had their weapons ready and at times, the runs proved a little too exciting.
Throughout Sam's time in Da Nang, he was on duty twelve hours a day, seven days a week. At night when the enemy launched rockets or fired mortars at Sam's position, he had to grab his weapon and get into the nearby bunker to ride out the attack. He said it became unnerving after a while, especially during the January 1969 Vietnamese Tet holiday, knowing that a rocket or mortar attack would disrupt his sleep up to three times a week.
In February/March 1969 and after spending a week of R&R (rest and relaxation) in Australia, Sam and his best friend were transferred south of Da Nang to Chu Lai. Sam's position was across the highway from a Vietnamese village, and he recalls having to grab his weapon and board a slow-moving truck picking up all the soldiers in the vicinity and heading to the ammunition dump so they could defend the position from their two-man bunkers in case of a ground attack. He also remembers standing guard duty one night in Chu Lai and noticing the perimeter fence might have been breached. He and an officer went to the fence line to investigate, but eventually they determined there was no hole in the fence – the camp lights just made it look that way.
Sam promoted to Staff Sergeant in Chu Lai, which allowed him to wear "three stripes and a rocker" and serve as the non-commissioned officer-in-charge (NCOIC) of the night crew at the ammunition dump. Sam would get ammunition requests, tell his soldiers what to load, and the receiving units would drive away with the ammunition they needed to keep up the fight. Sam really felt like he was contributing to the war effort in this role, making sure the soldiers in the field got the ammunition they needed.
Another significant event during Sam's tour in Vietnam involved a young woman he'd met a couple of times before he left Arkansas for Vietnam. She started to write him letters. They corresponded regularly and Sam fell in love with her through her letters. Sam also regularly received letters from his parents, sisters and friends, and he wrote them, as well. In fact, recently one of Sam's cousins gave him a postcard he had sent his cousin from Vietnam. As Sam's son later observed, "it was like opening a time machine."
Sam and his unit returned from Vietnam in August 1969 as part of President Nixon's post-election drawdown after serving ten-and-a-half months in country. Five months later, Sam married the young woman who began writing him in Vietnam, and he has been married to Jessie now for over forty-eight years. They have two children and two grandchildren.
Sam also returned to his job at the VA, where he continued to work until he retired in 2004. After retiring from the VA, he accepted a position as the Lonoke County Service Officer. In this position, Sam helps inform veterans about available benefits and how they can access them. He considers helping veterans learn about benefits for things like Agent Orange a real blessing for him. Sam's also a certified service representative with the American Legion. In fact, he's been a member of the American Legion for fifty years and belongs to Post 71 in Cabot, Arkansas.
As if all of that weren't enough, Sam volunteers as the Chairman of the Board for A Veteran's Best Friend in Arkansas, a non-profit organization that acquires and trains service dogs for veterans with Post Traumatic Stress Disorder (PTSD). He is also active in the Lonoke Baptist Church, where he teaches Sunday School and serves as a deacon.
Although he served with them fifty years ago, Sam forged a deep bond with the men of Headquarters Company, 336th Ordnance Battalion. They still get together every year with their wives, usually in Branson, Missouri. In 2017, they met in Dallas, Texas, where they were honored at a Dallas Cowboys pre-season football game and were invited out on the field to be recognized by a thankful crowd. Sam doesn't hesitate to say that the men of his unit dearly love each other.
Voices to Veterans salutes Staff Sergeant Samuel T. High, U.S. Army, not only for his dedicated and faithful service to our nation during time of war, but also for his continued service to veterans and his community. Sam, we tip our hats to you and to all of the members of Headquarters Company, 336th Ordnance Battalion, for defending our freedom!
If you enjoyed Sam's story, please sign up for the Voices to Veterans Spotlight monthly newsletter by clicking here. Once each month, you'll receive a new written veteran's story and a new podcast directly in your mailbox. Best of all, it's free and you can unsubscribe at any time.