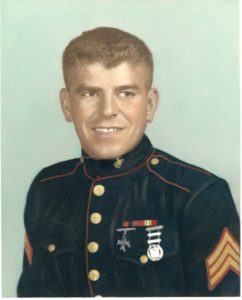 Natural leaders rise to the top, no matter where they start out. That's why when the Marines recruited Richard "Dick" Sowinski, they knew they had a winner. They could not have been more right.
Born and raised in Cleveland, Ohio, Dick graduated from West Tech High School in 1953. That fall he attended Kent State University, but it was his first time away from home and he spent a little too much time having fun and not enough time studying. It wasn't long before Kent State sent him a letter inviting him not to come back.
Disappointed, Dick decided to straighten himself out, so he went to a military recruiting office. He intended to join the Navy, but he felt like the Navy recruiter gave him the "song and dance," so he enlisted in the Marines instead. He didn't tell his parents right away because he knew they would worry. To put his enlistment into historical context, the Korean War had just ended and the Cold War was in full swing, so when his parents found out, they were scared for him. Dick's father also feared Dick would never finish college.
Dick and other local recruits began their Marine Corps enlistment on October 20, 1954, by boarding a train in Cleveland en route to Parris Island, South Carolina. When they arrived in South Carolina, they took a bus to the Marine Corps Recruit Depot. As soon as the bus stopped, drill instructors rushed aboard and started yelling at them to get off the bus. Dick's immediate thought was "Oh no, what have I gotten myself into."
Dick found out the next morning. "In processing" began with a haircut that left him totally bald. In addition to the rigorous physical and military training, which began right away, recruits were required to shave every day, whether they needed it or not, and field day meant cleaning every inch of the barracks to the drill instructors' exacting standards. Failure meant doing it all over again. Dick had to wash his clothes by hand with a scrub brush and hang them outside to dry. The one bright spot was mail call, where Dick's drill instructor would hand out mail to the waiting recruits. Any recruit receiving lots of letters from a girlfriend was teased in front of everyone, and it was the one time the recruits were permitted to laugh.
Despite the demanding training and new way of life, Dick did well at boot camp. So much so, that his drill instructor designated him the "house mouse," which meant he had to clean and take care of the drill instructors' duty hut. Being the house mouse had its advantages, because when the rest of his platoon had mess duty working in the kitchen, Dick stayed in the duty hut getting coffee and doing other tasks for the drill instructors. Dick was also designated to carry the platoon flag, known as the guidon. That honor signaled to everyone Dick was squared away.
Dick learned early on that if a recruit didn't get rifle qualified, he was looked down upon. Knowing his right eye was weak, Dick was afraid he might not qualify if he had to aim with his right eye, so he decided to learn to fire his M-1 rifle left-handed. To his surprise, he earned his rifle qualifications firing left-handed even though he was right-handed by nature.
Dick graduated from boot camp in January 1955. After a short leave period, he reported to Camp Geiger in Jacksonville, North Carolina, for advanced infantry training, and then on to Camp Lejeune, North Carolina, to the Second Marine Division, Sixth Marines, for his first assignment.
Dick excelled at Camp Lejeune just as he had at boot camp. He was made squad leader for his rifle platoon and soon his company commander recommended him for an appointment to the U.S. Naval Academy. He passed the physical and written tests with ease and then had to interview with the regimental commander, who was a Medal of Honor winner. During the interview, Dick learned the course of study at the Naval Academy would be engineering. Afraid he could not handle the math, and believing rumors he'd have to commit to twenty years in the military, Dick turned down his appointment. His company commander was not pleased.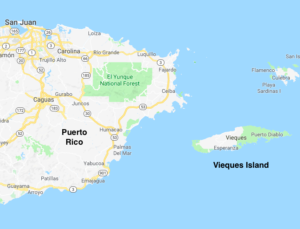 Soon thereafter, Dick's unit sailed to Vieques Island off the coast of Puerto Rico for amphibious assault training. Dick's ship had an admiral on board, and the admiral brought his barge, which is a small boat an admiral uses to go ashore or to entertain dignitaries. One of the Marines on board thought it would be a good idea to steal the admiral's stars off the barge. When the admiral discovered they were missing, he turned off the smoking lamp (which meant no smoking), stopped showing movies, closed the ship's store, and restricted the Marines to their quarters. As the seas got rougher, the situation got worse, until the offending Marine snuck back one night and returned the admiral's stars to the barge. Appeased, the admiral lifted the sanctions and life at sea returned to normal.
Eventually Dick's unit was ready to assault the Vieques beach as part of the exercise. After a steak and eggs breakfast, at 5:00 a.m. they climbed down the cargo nets on the side of the ship into the waiting landing craft and assaulted the beach. Once ashore, they dug in and camouflaged their foxholes. Dick knew he had done a good job because later that night his company commander came by to check out the unit's positions and, not seeing where Dick was, fell into Dick's foxhole.
After the exercise, Dick's unit went ashore for liberty at Guantanamo Bay, Cuba. Since Fidel Castro had yet to take over the country, the Marines were permitted to leave the base and go into town during the day, but they had to be back inside the gates by nightfall. Still, Cuba's precarious political situation meant Dick's unit was on call in case they were needed for action.
When Dick returned to Camp Lejeune after the exercise, his company commander recommended him for Drill Instructor School. Only the very best Marines are permitted to become drill instructors because they are responsible for molding the next generation of Marines. Now a corporal, Dick was selected and began the school. He remembers early on sitting toward the back of the class when the instructor called him out and accused him of sleeping. Dick wasn't sleeping, but he decided not to defend himself and just absorbed the berating. The instructor stopped abruptly and said to the rest of the class, "Now there's a disciplined Marine. He didn't challenge me or act disrespectfully. He just took my yelling calmly. Drill instructors need to be disciplined like this Marine." Dick was really glad he hadn't said anything to the instructor.
Dick graduated from Drill Instructor School in 1956 as a sergeant and then reported to Parris Island to train new recruits. While he has many drill instructor stories, one stands out in particular. One of the men in his platoon was a small, unassuming recruit, but he had a lot of spirit. One day a general was inspecting Dick's platoon, which meant Dick followed right next to the General in case the general had any comments while inspecting Dick's men. The general stopped in front of the unassuming recruit and barked, "What's the motto of the Marine Corps?" Misunderstanding what the general said, the recruit answered enthusiastically, "There's nothing the matter with the Marine Corps, sir!" Dick said all the general could do was laugh, pat the Marine, and move on.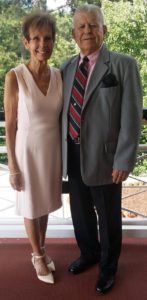 After serving as a drill instructor for 18 months, Dick got out of the Marine Corps and re-enrolled at Kent State. This time he made the Dean's List every year. He graduated in 1960 with a Bachelor's Degree in Health and Physical Education, and later earned his Master's Degree in 1966.
One other thing happened in 1960 – Dick married Maureen, his wife of 57 years. They have four children (including one who served in the Navy), and ten grandchildren. They've had a wonderful life together.
Dick credits the Marine Corps with giving him a philosophy to live by – a philosophy he's shared with countless youth over the years both as a teacher and a much-loved high school and then college freshman football coach at Baldwin Wallace College in Berea, Ohio. Here is Dick's philosophy for personal success:
Spiritual Soundness – Have a deeply rooted faith in God.
Respect – Show respect for your parents, the girl you are dating, and authority.
Courage – Stand up for what is right and don't be afraid to say no to what is wrong.
Excellence – Do your best at whatever you are called to do and never do less than you are able.
Voices To Veterans is proud to salute Sergeant Dick Sowinski for his service in the Marines and his years of helping young people succeed both on and off the football field. Thanks for a job well done!
If you enjoyed Dick's story, please sign up for the Voices to Veterans Spotlight monthly newsletter by clicking here. Once each month, you'll receive a new written veteran's story and a new podcast directly in your mailbox. Best of all, it's free and you can unsubscribe at any time.